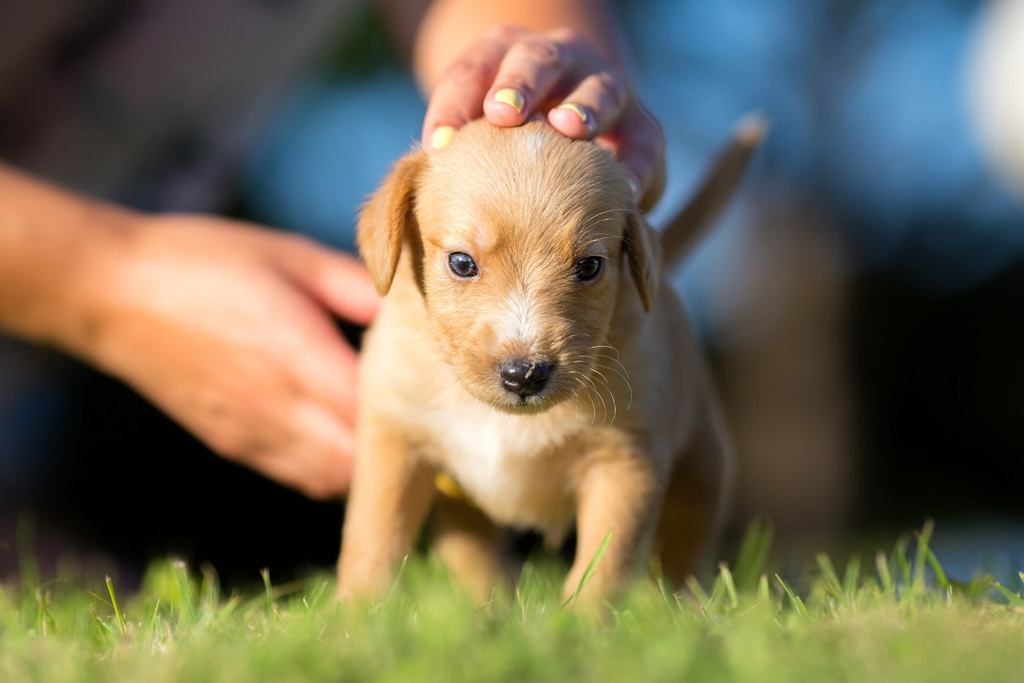 Have you been feeling the itch to get a dog?
Even as a child, I remember the feeling so strongly and couldn't think of anything else – everywhere I looked and went, there seemed to be an irresistible, cute dog staring back at me all doe-eyed.
As far as I was concerned, it was meant to be!
But, while it may sound tempting to bring home a pet home based on feelings, this isn't a decision to take lightly. Right behind the cuddles and kisses are the extra responsibilities and you realize that your pet has a lifetime dependency on you, including demands on your finances and time.
Also, choosing your dog has more to do with what's right for you, your environment and life-stage, than the one-sided feeling of getting a cute, loving pooch (trust me, you'll have to try hard not to get those parts!) .
"Owners and their pets tend to bond more when the owners know what they're looking for in a pet ahead of time and keep it in mind when choosing a pet."

Dr Karen Becker, an integrative veterinarian.
In this blog post, I will go through the basics you need to feel informed, prepared and more confident bringing a dog home for the first time.
Even if it's not your first time getting a puppy or an adult dog, it's always a good idea to refresh your memory about things to consider before bringing a (new) furry family member into your home!
Before Choosing Your Dog
There are at least 5 things that you can do before adding a new pet so that you can create a long-lasting relationship with your new member of the family.
Questions for You to Consider
For a most enjoyable dog-ownership experience, start off with taking into careful consideration what type of dog best suits your family, your home, and your lifestyle! 
Investing some time and effort to make an informed decision will definitely pay off and also ensure the years with your future pet are happy ones.
There are some fundamental questions to ask when selecting a pet for your family; here are what you and your family should consider:
Can You Have Your Desired Dog Where You Live?
Depending on your living situation and environment, you may be limited in the type or number of pets you can have.
How much extra space will your dog need?
Is anyone allergic to animal dander?
Are there any restrictions from your landlord if you are renting?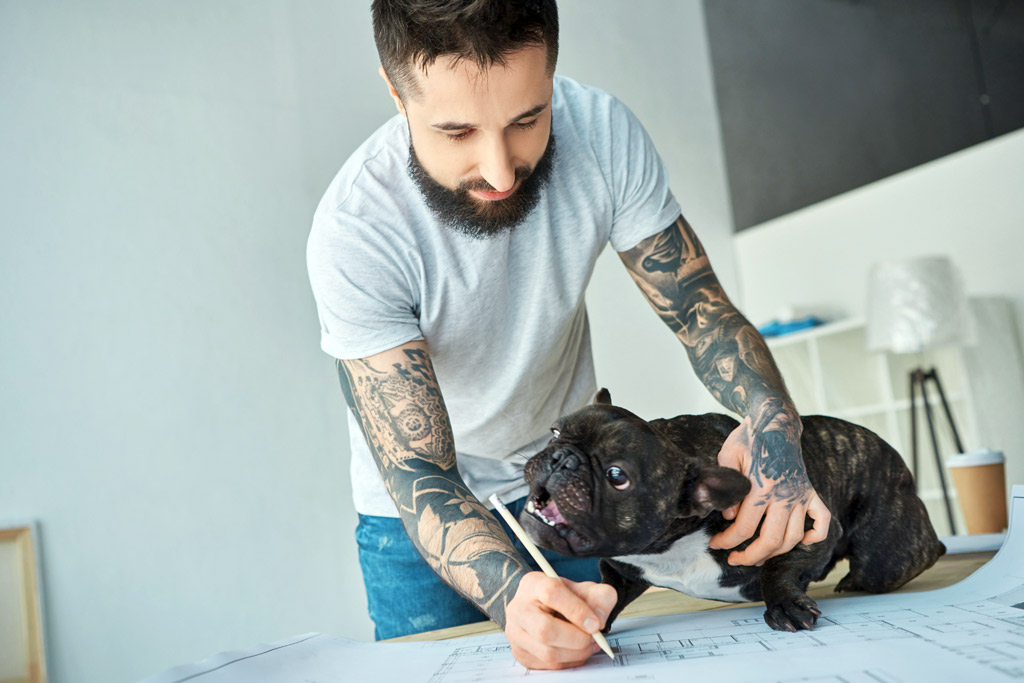 Can You Give Your New Dog the Attention and Care Required?
You will need to consider all aspects of dog care, from the practical — who will walk the dog? – to the emotional –  will you be able to provide your pooch with a safe, loving and nurturing environment? 
Think about your work hours, financial situation, health status and free time. All these factors need to be taken into account when caring for an animal.
Who Will Care for Your Doggy When You Are Away?
Whether you work long hours or travel frequently, or simply decide to go on a needed vacation, you will need someone to feed, exercise and socialize with your dog when you're away.
It's a good idea to know in advance who this person will be and what will be your financial cost for their services.
If not "person", then what options do you have to make sure your dog is taken care of over longer periods of your absence.
Will Future Changes Affect the Life of Your Dog?
Think about your ability to care for your pet now as well as 5, 10, and 15 years down the road.
Are you planning to:
Move to another state or country.

Get married.

Start a new job.

Have or adopt children.

Etc.
Will you still be prepared, equipped and willing to care for your pooch?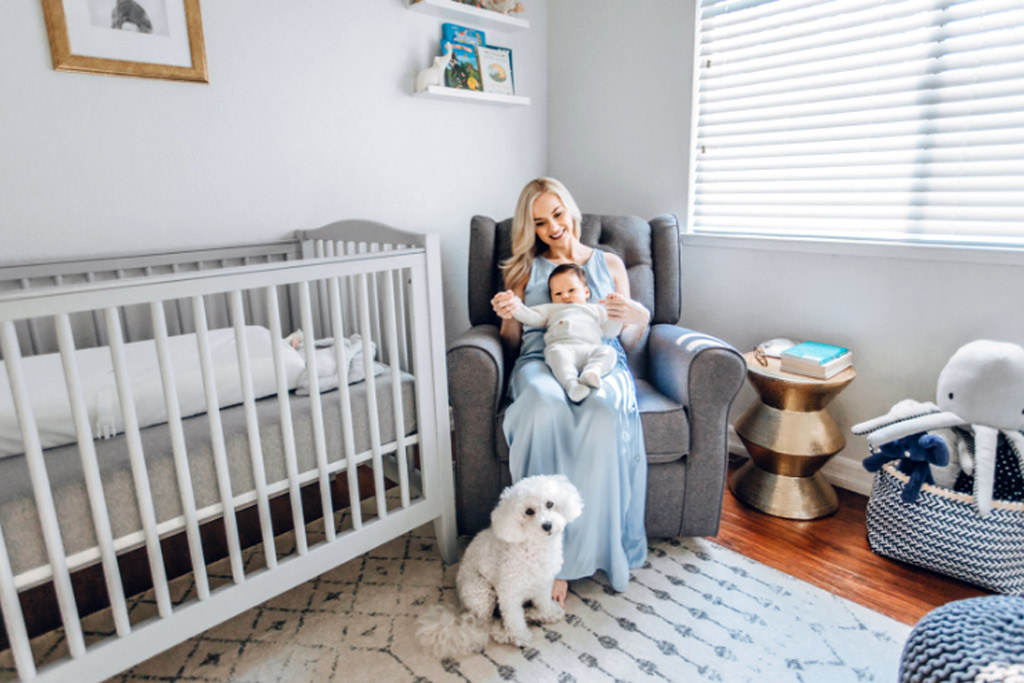 Criteria for Choosing Your Dog
Once you have a firm grasp on these basic questions, you are ready to move forward with deciding on what dog breed would be best.
It helps to do lots of research to understand which dog is better suited for your activity level and lifestyle.
A dog's age will also be a factor to consider — puppies often require more effort and patience than adult dogs. However, older dogs may need further training, which might be the case if you are considering adoption.
"Before you decide, talk with knowledgeable shelter employees about what type of pet best suits you. Allow them to point you in a direction, and keep your brain engaged as well as your heart so that you can make the best choice for both you and the animal you adopt."

Dr Karen Becker, an integrative veterinarian.
For instance, ask yourself if you're looking for a family dog to bond with your children.
If you are single, you may benefit further because dogs act as a "social stimulus" and can be a catalyst to forming new friendships.
Dog owners are significantly more likely to get to know people in their neighbourhood than non-pet owners, for instance. Plus, it's also a great way to introduce movement to your life when going for walks or just adding more variation to your fitness routine!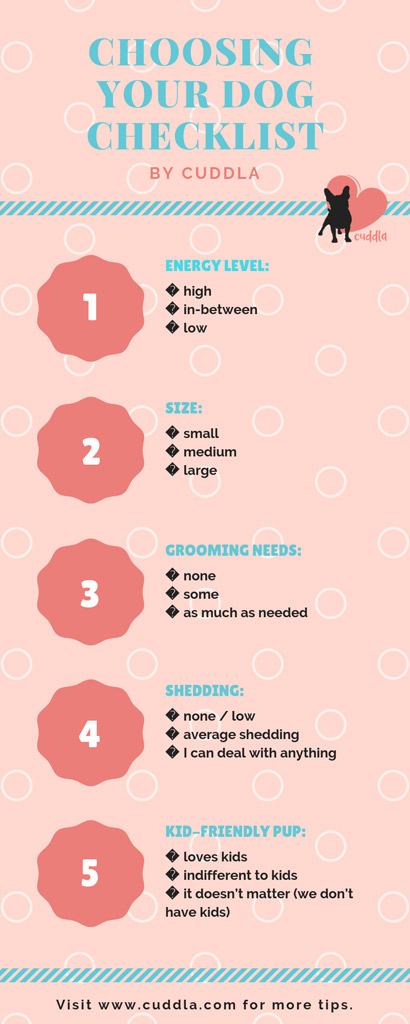 Getting Your Dog
There are at least three safe options that you can consider for getting your dog:
From a breeder.
From a shelter.
From someone that you know.
You don't want to buy a puppy from a pet store or a website because most of those puppies come from mass breeding facilities (puppy mills or farms). The conditions that the dams (puppy mothers) and their puppies are kept are usually very bad and deserving condemn.
Also, be prepared to assume the risk of having to pay a huge veterinary bill because the puppy might be sick, has no vaccinations, hasn't been dewormed and microchipped.
Getting Your Dog From the Breeders
There's something you ought to know first – raising a puppy is a lot of work! They are bouncy, happy, and very playful, which is a great experience and it can be very rewarding.
However, all that excitement can be easily forgotten after having to clean up after your puppy's mess (yes, that includes poop) and being exhausted after numerous attempts to house-train him or her.
Dogs Trust warns future dog owners that if an advert seems too good to be true, it probably is. For an extra check, you could visit the Kennel Club Assured Breeder Scheme in the U.K. or US.
Once you know that you want a puppy and you have chosen the breed that better suits your lifestyle and personality, it's time to find a dog breeder.
#1 – Finding a Reputable Dog Breeder
Sadly not everyone can be trusted, and there are many breeders that sell sick puppies online or keep their puppies in very bad conditions. Some dog rescue associations are known to go to breeders to rescue puppies before they are "sacrificed" (just the thought sends shivers down my spine).
That's why is important to find a breeder that has accreditation and that you can trust.
Also, you can follow this checklist by Blue Cross to find a trustworthy dog breeder:
❐ Gives lots of information in an advert for selling the puppies.
❐ Has a waiting list for puppies.
❐ Encourages you to meet your puppy several times before taking them home.
❐ Has a clean and safe area in their home for puppies and their mum.
❐ Puppies and mum are obviously clean, happy and healthy where they are kept in at the breeder's home.
❐ Will ask you lots of questions about why you want a puppy.
❐ Will want you to ask lots of questions about them and their puppies.
❐ Gives you their vet's details so you can ask the vet questions about the litter and parents.
❐ Sells puppies with a contract that promises to take the puppy back if there are any problems.
❐ Has the puppies microchipped before you can take them home (it is a legal requirement for all dog breeders).
❐ Won't let you take the puppy home until they're old enough to leave mum, at least eight weeks.
❐ Encourages you to meet other members of the litter's family so you can be sure about temperament.
❐ Can tell you all about the socialisation they've been doing, eg. taking them in the car, meeting lots of people of all ages, meeting other animals, playing, etc.
❐ Has started housetraining the pups by the time they are old enough to leave.
❐ Gives evidence of relevant health testing, if needed. Some breeds and crossbreeds should have genetic testing to rule out inherited disease.
❐ Provides pet insurance for the first few weeks to cover illness.
#2 – Meeting your puppy for the first time
This is the time to go through the checklist above. Also, according to Dog Trust, there are a few things you should be aware of:
How old should a puppy be? They must be at least eight weeks old to leave their mum.
Should a puppy be weaned? At seven weeks they should be fully weaned. If they are not, they could be younger than the breeder claimed. P.S: Weaning is a key growth stage, & process, where a puppy starts eating food other than their mother's milk.
How old should the mum be? She should be over a year old, but not obviously too old.
Ask about the mum's history, and how many litters she has had. It is against the law to breed a bitch (female dog) more than six times in her lifetime.
Have the puppies been wormed? All puppies have worms at birth. Worming should start with the breeder at about two weeks old, be repeated every two weeks and be continued by you.
Have the puppies had any vaccinations? If so, when is the next dose due? Puppies should be vaccinated at 6-9 weeks of age and then again at 10-12 weeks. They will become fully protected two weeks after the second vaccination. You will need to do this if the breeder has not.
What should I feed my puppy? A good breeder will give you enough food to continue exactly the same diet for a couple of days. They should also give you a diet sheet that shows how feeding should change as your puppy grows.
What sort of socialisation or experiences has my puppy had so far? Puppies should preferably be raised in a home environment with all the noise and through the traffic of a normal home. Those raised in kennels away from the house will need more intensive socialisation training to ensure they can cope with daily life as a pet. If puppies have already met other dogs, domestic animals and people, they will have more confidence than those that have not.
Can I return the puppy if there are any health problems? You should take your new puppy to a vet for a health check within 48 hours. A good breeder will offer to take the puppy back at any point should you be unable to keep him.
Is the puppy Kennel Club registered? If so, make sure you are given the registration certificate and pedigree when you pick up your puppy. You should also get some free health insurance for the first few weeks.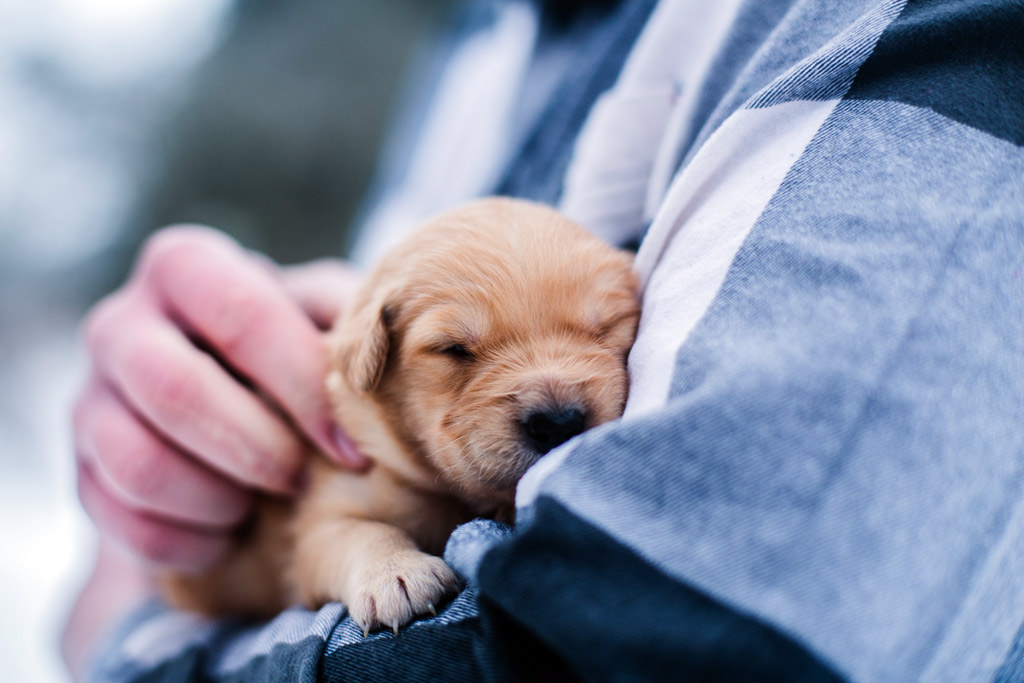 Adopting Your Dog
If you decide to adopt a dog, you're going to be encountering different breeds, with different personalities, needs and various ages. Staff members at these animal shelters and rescue groups are often skilled at helping to match families with dogs.
When adopting, rather than making breed or age type your main and only deciding factors, also rely on descriptions of the pet's personality and activity level from shelter workers and foster families. In the case of dogs, you can interact with them at the shelter and in some cases even have a "sleepover" to ensure you're a good fit.
If you're an animal lover who's thought about adopting a dog, there are many associations that can help you. For example in the UK:
Battersea Dogs & Cats Home.

RSPCA.
Pets 4 Home.
BlueCross for Pets.
Dog Trust.
And many more!
Adopting a dog is all about ensuring you're matched with the perfect pet for you so that you and your new pet can have a fantastic life together.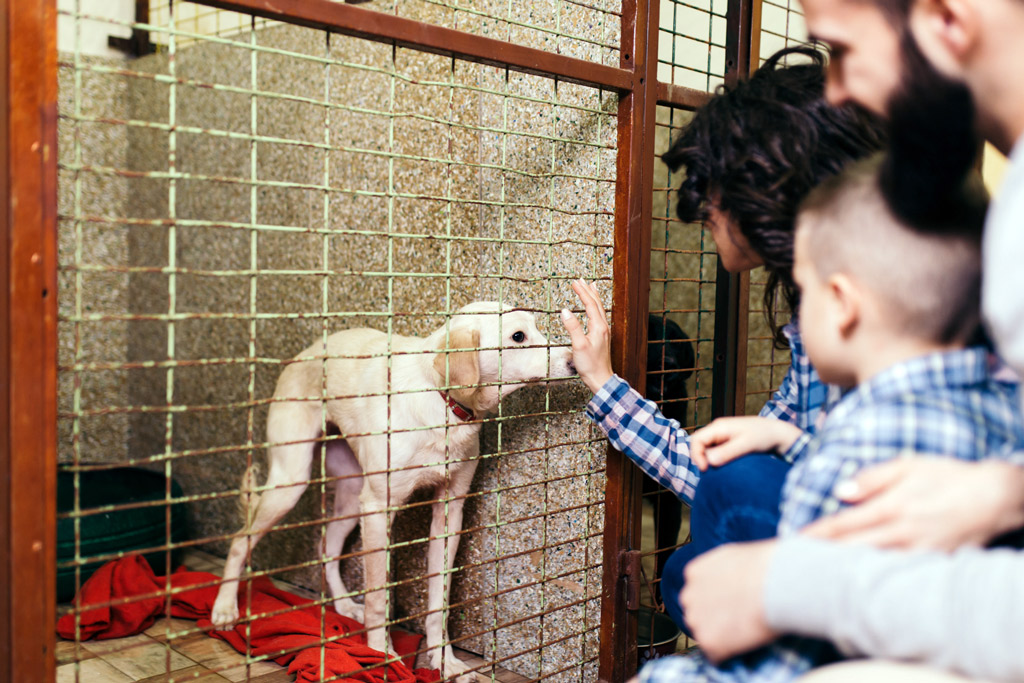 However, you might have some questions about the responsibilities and feel slightly hesitant about the unknowns.
#1 – Find Your Dog or Puppy Online
Spend some time checking an association's website to see all kinds of dogs that they have in their care: from puppies to seniors, miniature dogs to large.
They will usually have dogs who have been abandoned and dogs who have experienced cruelty – who have never known life in a loving, family home. Some may have been born in their care.
Either way, each of these dogs comes with a story and a personality.
#2 – Complete a Rehoming Application Form
Once you've found 'the one' (or the other way around), print and fill out an application form. Contact the centre the dog you like is being rehomed from and arrange to visit them – taking your completed application form with you.
Staff or volunteers at the centre will discuss with you the information you've provided and the needs of the dog you've chosen.
If they believe that both you and your chosen dog are a good match then they'll arrange for you to meet.
#3 – Get to Know Your Chosen Dog
If everyone agrees that the dog you've chosen is the right dog for you then it's time to get to know each other!
It's best for everyone from the household to meet the dog to rule out allergies or other issues, so you may be asked to arrange a second visit to the centre.
#4 – Arrange a Home Visit
Probably, one of the adoption support volunteers will visit your home to discuss your new dog with you, and give you tips on how to proceed. For example – leaving a t-shirt or blanket at the kennels gets them used to your smell, and gives them something familiar to travel home with.
Your home visitor will give you lots of tips on any adjustments to your lifestyle that will help you and your dog to settle into a safe, secure and happy life together.
This could include information on:
Preparing your home and garden.
Removing potential dangers.
Shopping for the right collar and lead.
Identification tags.
Species appropriate food.
Getting a bed.
Dog toys, etc.
#5 – Collect Your New Dog!
Seeing that your home is suitable and ready for it's newest member, it's time to head back to the centre to have your new family member officially signed over!
Dogs from most associations come spayed or snipped, vaccinated and microchipped. They have up-to-date flea and worming treatment as well.
Each association sets its own adoption fees. These fees cover a lot of veterinary expenses – such as microchipping and neutering – that would usually add up after getting a dog.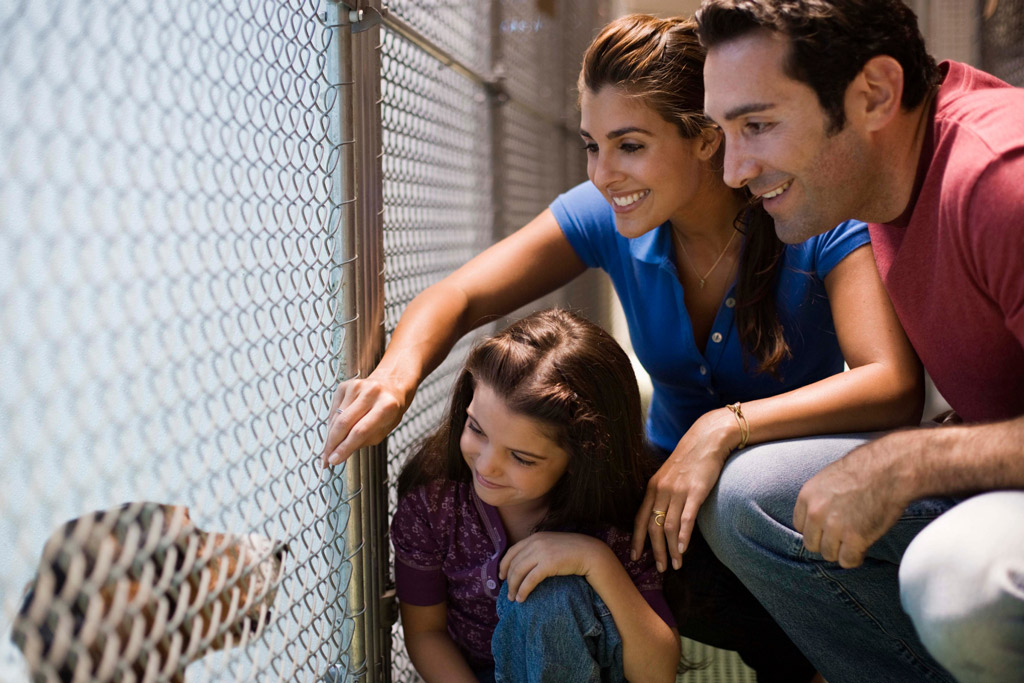 Fostering a Dog (Part-Time Dog Owner)
Alternatively, you can become a part-time dog owner by fostering a dog, i.e. taking care of a dog whilst an association is looking for a permanent home for him or her.
It's also a great way to see how a dog will fit in your daily schedule and even see what personality will suit you best.
#1 – Find a Shelter You Like
Taking advice from Stasia Thompson, a volunteer with Almost Home Dog Rescue and Poor Paws Rescue, who has adopted out more than 25 foster dogs over the past six years, she suggests getting to know several rescue organizations before aligning yourself with one.
"I recommend going to a local meet and greet to talk with the volunteers and ask about their experience with the rescue."

Stasia Thompson, a volunteer with Almost Home Dog Rescue and Poor Paws Rescue. 
#2 – Ask About the Facility
They say if you want to know something, just ask. And that's a reasonable step to take when you're looking at different rescue operations.
You may find that some are an actual centre with a few, several or many pets they're hoping to help find a home.
Facilities with staff members on hand often help fill in the gaps to link potential foster parents with pets, and they may also offer support when a foster situation doesn't work for whatever reason.
#3 – Think About Short-Term Dog Fostering
Fostering doesn't have to be a major commitment. Thompson suggests short-term fostering as a quick and easy way to begin your fostering journey.
It doesn't have to last for months; often, days or just a few weeks is all that's required. Vacation time is one big reason rescue organizations look for people willing to provide short-term fostering, as they need volunteers to fill in while their "regulars" are away.
#4 – While Fostering, Be Fair to Your Own Pets
It's important that potential dog foster parents consider what's going to work with their own household before bringing in a foster.
Thompson has three dogs and two cats and determined that her household mix is a great fit for puppies under a year old.
"In my home, puppies work well as my dogs mother them and show them the ropes on how to be a good dog. Athena, Nola, and Rue are very welcoming and love to play with their foster friends.

Knowing your animals' likes and dislikes, as well as finding out as much as you can about a potential foster, will help find an animal that fits seamlessly within your household dynamic."

Stasia Thompson, Stasia Thompson, a volunteer with Almost Home Dog Rescue and Poor Paws Rescue.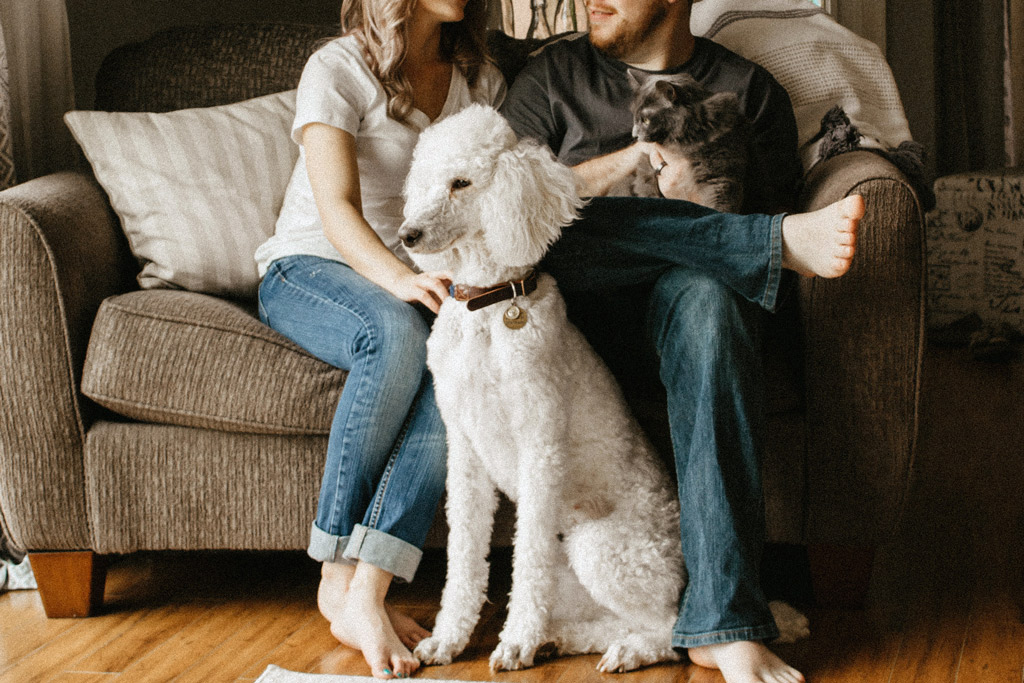 #5 – Don't Concern Yourself With the Cost
Rescue organizations often take the edge off the costs when homes open their doors to foster dogs and cats. Food, litter, toys and even veterinary care is often at least a part of what is offered if you open your door and heart to a pet in need.
Sometimes rescue centres are struggling for support, just getting started or they have been slammed with an influx of too many dogs and cats in need.
Primarily they cover most of what you need, but there are items that foster parents may be asked to help with, such as crates and carriers, food and water bowls, collars, leashes, treats and other items that not only help the animals but takes the strain off the centre financially.
#6 – Provide a Foster Home for Dogs in Need as Often as You Like
Foster parents have many ways to spread the word about an adorable, temporary lodger: from social media to "live marketing", i.e., walks around the neighbourhood.
You could take lots of photos of your foster dog doing stuff like cuddling with a person, child or another pet, sleeping in a funny position, etc.
Thompson has had success walking her fosters wearing a bright yellow "Adopt Me" vest. She considers her walks a great way to socialize the pups and it enhances their chances of finding their new forever families.
#7 – Don't Worry About Falling in Love
Many people hesitate to foster pets in need because they're afraid they'll fall in love.
Fostering requires a level of selflessness, but the rewards of helping an animal find their way to their forever family can far outweigh the challenges of letting them go.
Even if your heart hurts a little when you hand your foster pet over to a new family for adoption, you'll be smiling through your tears.
"They know I helped save them, you can see it in their eyes."

Stasia Thompson, a volunteer with Almost Home Dog Rescue and Poor Paws Rescue. 
#8 – And If You Do, That's Okay Too
What happens if you do fall hopelessly in love with your foster animal?
You're not alone; it happens! And while this is called a "foster failure," it's nothing than a success in adopting a companion that you are going to love forever. There's no better "fail" than that.
Thompson, for example, ended up adopting fosters numbers 19 and 26, respectively.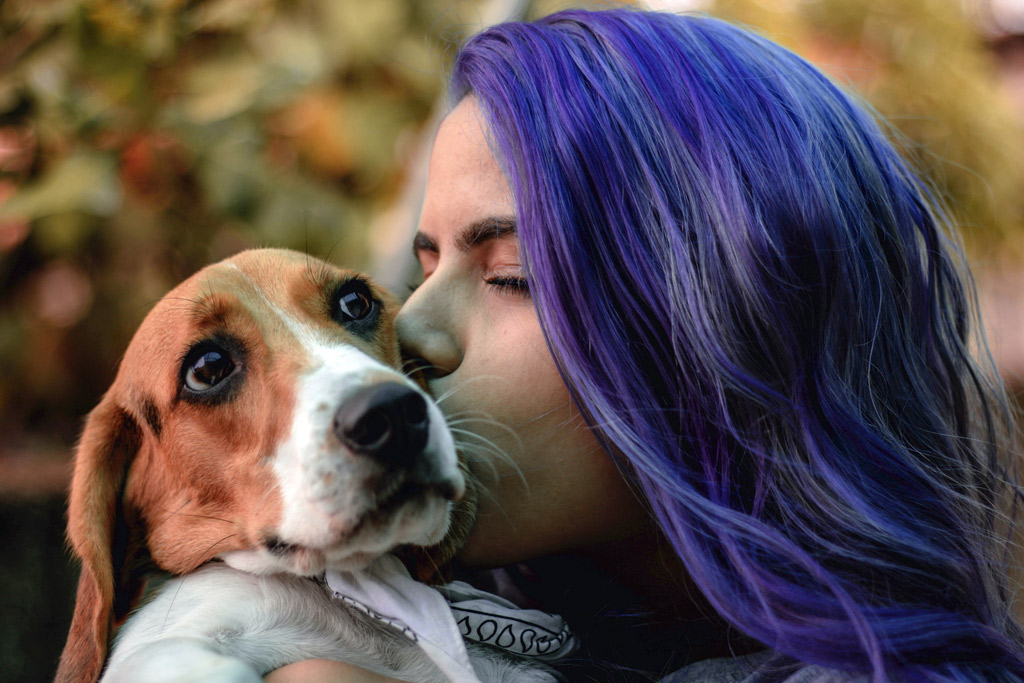 Before Your Dog Arrives
Craft a Dog-Friendly Home Environment
Do you know what works best in your house when you have pets at home? Or are you planning on making some changes to your house interior to accommodate your furry friend?
Here are some things to consider and check off your list:
Pick Durable Materials
Pick up durable materials for:
Flooring, 

such as tile, vinyl, or stone, that is easy to clean, stain-resistant, and toenail proof.

Wall colours and treatments; l

ight colours will be more likely to show dirt. It also is easier to wipe smudges off of a satin paint finish.

When getting furniture, wood might not be a good idea if you have a "scratcher" putting his paws where he shouldn't or a frequently drooling dog.
Minimize Dirt as Much as Possible
It goes without saying that you should clean litter boxes regularly.
Brushing and washing your dog when necessary can help hold off hairballs, dirt from paws, and dog odours.
Additionally, establishing a dog-friendly area at a hall entry or in a mudroom can prevent dirt from being tracked throughout your home.
If you're planning to install a dog door, the hall entry is a great place to put it to restrict your dog from the rest of the house, while still providing free access to the outdoors.
Keep Safety in Mind
Safety is paramount in a dog-friendly home.
Hide all the cables.
Childproof your home with cabinet locks, as well as trash-can and toilet-bowl lid latches, so your curious pet stays away from harm and potential hazards.
Be careful with your curtains, as they attract pet hair, dander, and odours. Wood blinds or vertical blinds are a great alternative.
Create a Toxin-Free Environment
Common household items can be hazardous to dogs, so it's good to familiarize yourself with the top pet toxins — a list that includes medication, plants, people food, cleaning products, pesticides, and fertilizers.
It can be a challenge to combine a desire for a 'green' environment with the need for household furnishings that are pet-proof and easy to keep clean.
However, bear in mind that your pets live at ground level and are also likely to spend many more hours lying on furniture than the human members of the household.
You can further reduce the environmental pollutants in your home by using non-toxic cleaning solutions.
Some house plants including poinsettias, holly, ivy, mistletoe, and lilies can be toxic, so avoid these or keep them out of reach. You can still add household plants that improve the air like a spider plant, peace lily, and chrysanthemum.
P.S. I cover some handy, practical tips for a dog-friendly home in our How to Make Your Home Dog-Friendly and Safe blog post, where you will also find a room-by-room checklist to dog-proof your home!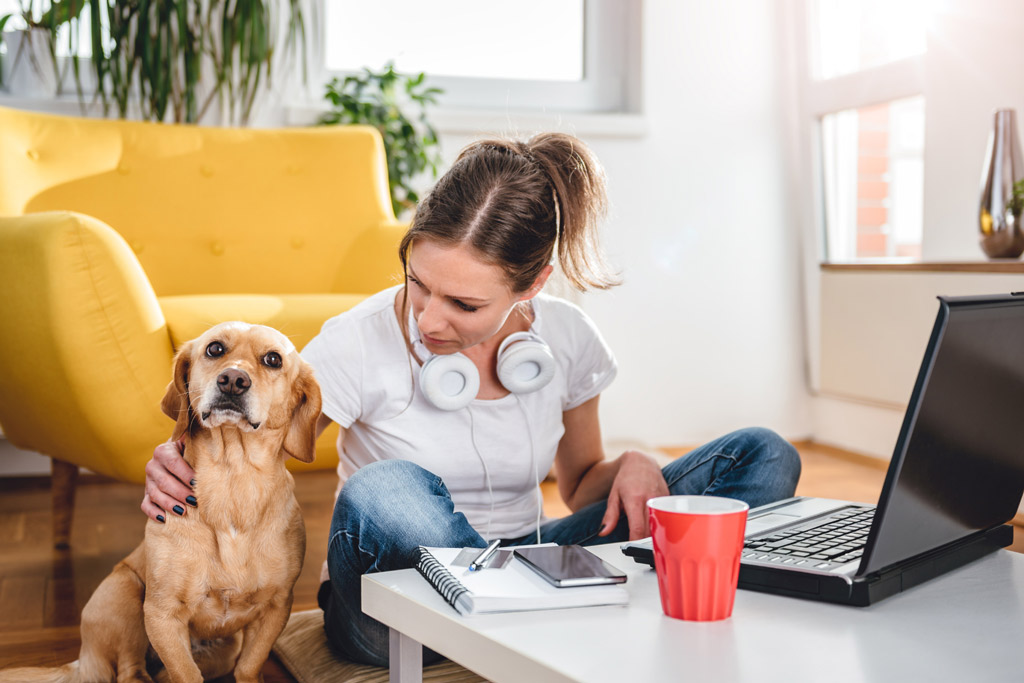 Create a Dog Safe Zone
Providing your pooch with a cosy and quiet place where they can retreat to is very important.
A dog safe zone isn't hard to create, but it does require some thought. You want to make sure that your dog's spot is safe and comfortable.
This is an area where your furry friend can retreat to rest or have a nap, or not get disturbed when the household gets busy. You can place some toys and familiar items in your dog's zone.
Also, establish a feeding area where you are going to be placing your dog's bowls for food and water.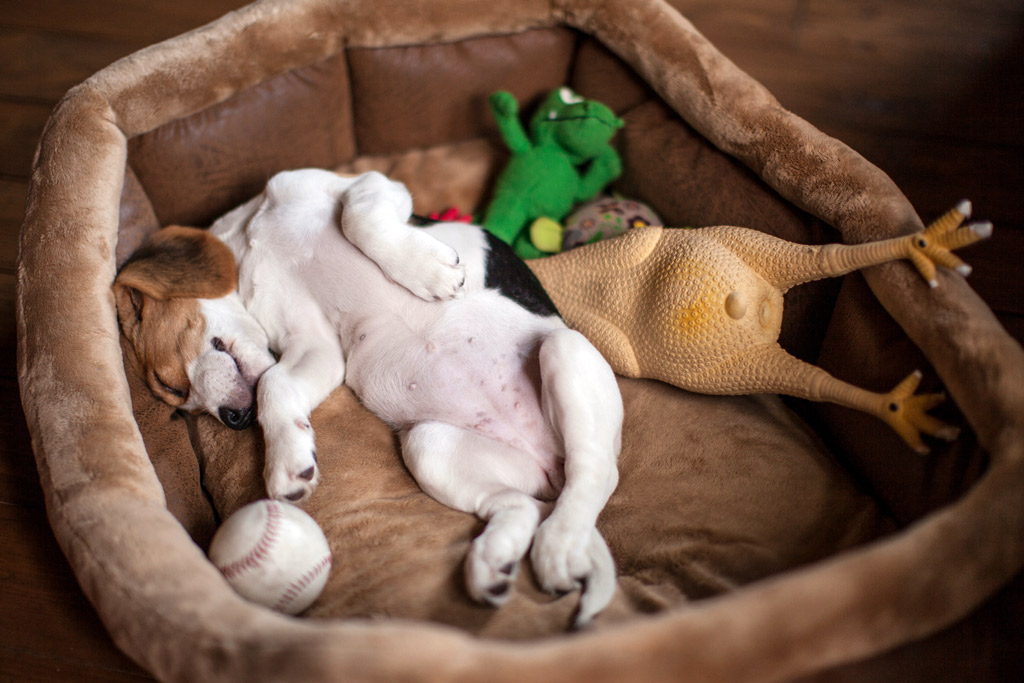 Find a Veterinarian Nearby
Find a veterinarian around where you leave that shares your values. It's important to know which treatment approach you prefer for your doggy.
In veterinary medicine, there are allopathic practitioners, holistic practitioners, and integrative practitioners.
Allopathic Veterinarians
They are traditionally trained in western, or conventional, medicine. The general approach of allopathic vets is to treat symptoms of illness or disease with drugs and/or surgery. The primary focus is on treating existing symptoms.
Holistic Veterinarians
They have the same training as allopathic vets.
However, they pursue additional training in alternative methods of healing, including herbs and nutritional supplements, chiropractic, acupuncture, homoeopathy, and nutrition and movement therapy.
The focus of holistic veterinarians is to promote wellness and prevent health problems from developing. 
Integrative Veterinarians
They combine the two approaches, both western and alternative medicine, to their treatment of patients.
Both types of medicine, western and alternative, have practical application in the care of dogs.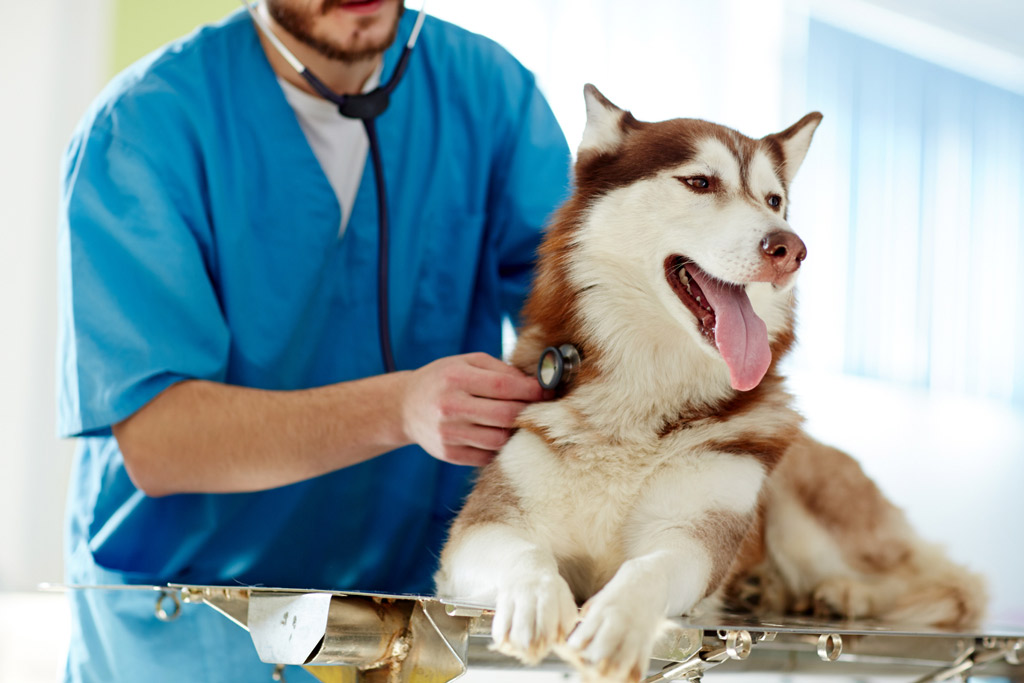 The First-Time Dog Owners Kit
Now it's time to go through the basics you will need to take care of your dog.
There are many things that you can get, but here are the necessary things you should have to provide a healthy environment and care for your dog:
Dog bed and blanket (depending on how cold it is).
Dog toys like balls, tug-war toys, etc.
Dog collar or harness.
Dog lead, retractable for training and regular for walks.
Dog bowls for water and meals.
Dog food and treats.
Dog grooming tools like a brush, nail clippers and a toothbrush.
Dog crate for car trips or a car restraint system.
Don't get overwhelmed, go to my First-Time Dog Owners Kit list on Amazon, with suggestions for dog basic items that you will use regularly!
Also, protect your pooch by having dog insurance. With Petplan pet insurance, you get the coverage, support and resources you need to be the best pet parent ever. Plus, it will help you save on vet bills! 🙂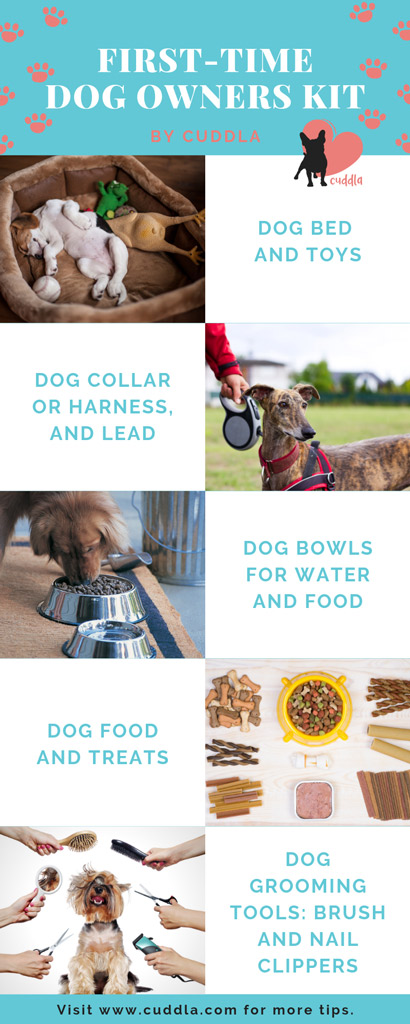 P.S. To develop a good foundation of care that promotes health and longevity, head over to The 5 pillars to a happy and healthy dog blog post where I walk you through getting started.
When Your Dog Arrives
Get Your Dog Settled In
Congratulations, you are a dog owner!
Your new dog may be nervous while they get used to you and your home, but be patient and don't worry if there are a few accidents.
Consider giving your new dog time to adjust, but get back to your routine too. It's important for dogs to understand that you won't be with them in the same room petting them 24/7. However, make sure you can help your pooch adapt as much as you can by following a regular routine (refer to the Dog Routine section below).
For example, if you work full time and plan on bringing your new dog home on a Saturday, then heading back to the office on Monday is not the best idea.
It's advisable to ask for a few days off or work from home, just so your dog can get used to being alone gradually.
Insider Tip: Adopted dogs need even more time to settle into a new life and new environment.
Battersea Dogs and Cats Home recommends a period of settling in for a rescue animal and getting it into a new routine but warns that dogs can end up thinking that a constant human company is normal – so, dog leavers, make sure you build in some away-time.
In summary, spend quality time with your pooch.
It's not about the number of hours together (which also makes a difference); it's about what you do together that matters the most.
Remember that bonding with your doggy starts as soon as you meet each other!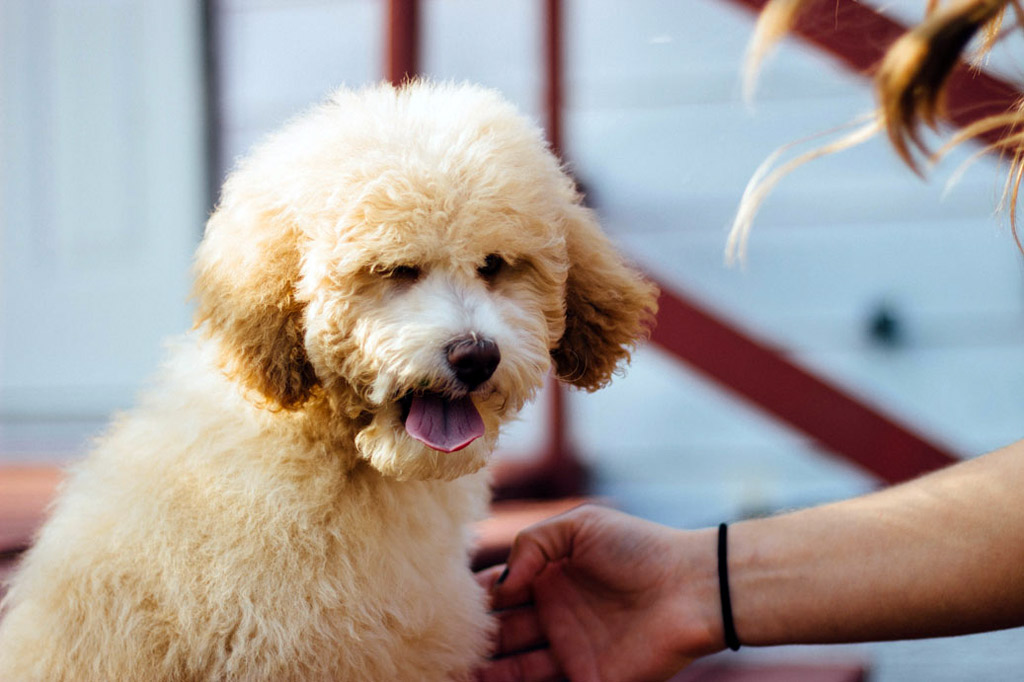 Start Obedience Training on Day 1
As soon as your dog comes home with you — that very first day — you should begin basic training commands like come, sit, stay, and down.
You might discover your dog can already follow basic commands, especially if they've been adopted.
You may also find that you need to take it very slowly, working on just one command a day… or for a couple of days… or weeks, then moving on to another command.
Every dog has their learning rhythm, but all need consistency in their training.
In any case, training your dog following a positive reward-based method is the key to encouraging good behaviour. You may be able to accomplish this on your own, or you may need the help of a veterinarian or a trainer.
In our Dog Training 101 blog post you will find an easy to get started guide and learn what to expect.
Insider Tip: The sooner you start teaching your pooch some rules and the routines, the better the outcome for the both of you.
Also, you can name your puppy or consider renaming your adult dog. Check out our How to Name or Rename Your Dog blog post (although it talks about Boston Terrier's, you'll find it useful).
Likewise, the sooner you start using your dog's intended name, the better your pooch associates her or his name with something positive like petting and treats!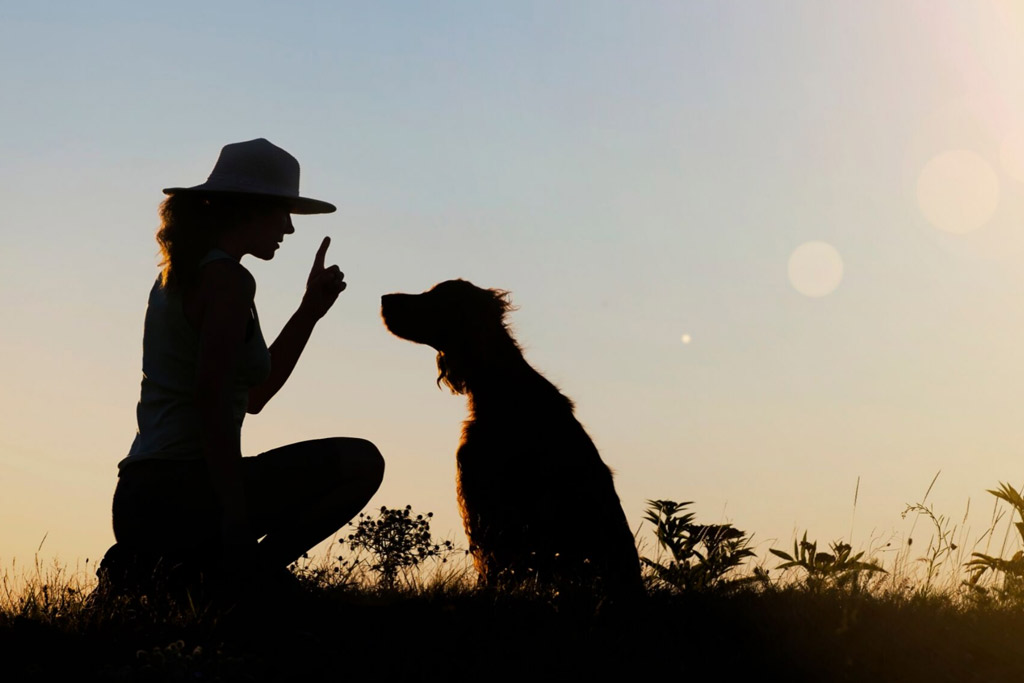 Establish a Dog Routine
According to the Kennel Club, the first 16 weeks of a puppy's life goes a long way to producing a well-balanced, sociable dog.
And also requesting time off would be "sensible" for the owner and "extremely beneficial" to the puppy, who can be intensively trained, acclimatized and socialized.
Adult dogs have similar needs too.
They might have followed a routine before and had some training, but that doesn't mean that they won't benefit from further training and following a daily schedule.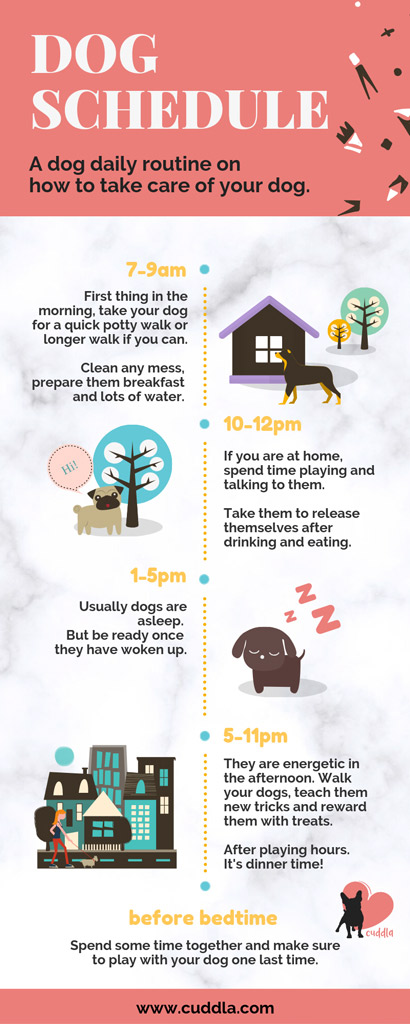 Above you can see an example of what your dog routine can be, although this will definitely always depend on your own schedule.
However, here are the things you need to make time for daily:
Feeding times.
Potty breaks.
Dog walks.
Playtime.
Cuddle time.
It's best to stick to the same time as much as possible. Dogs can find changes in their schedule stressful.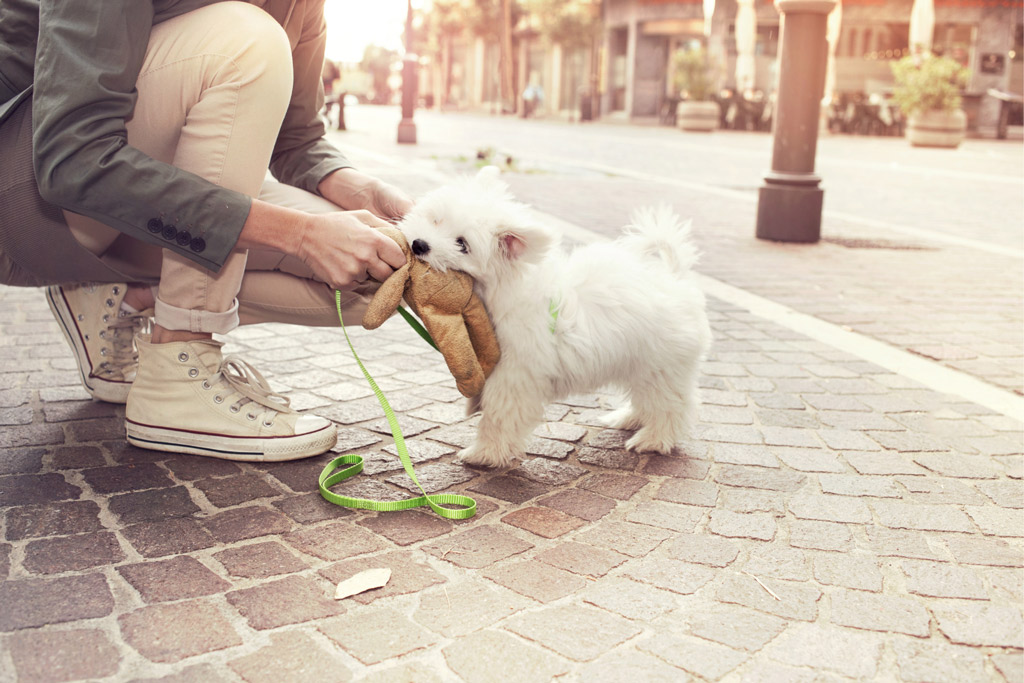 Dog Parenting
The Cost Of Owning a Dog
Getting a dog is a huge commitment (which you probably gather already at this point).
Our furry friends need a loving home, plenty of exercise, a healthy diet, a comfy bed, toys to keep them occupied… and the list goes on! i.e. there's also a financial commitment from your part!
The 2018 report by the PDSA, UK's leading vet charity, found that 69% of dog owners underestimated the monthly costs, with 28% of dog owners putting it at £21 to £40, when the true cost is between £70 and £105, depending on size and breed.

Source: pdsa.org.uk
According to their research, you should expect your dog to cost you at least £6,500 – £17, 000 over their lifetime:
Small dog breeds: £6,500 to £12,000.
Medium dog breeds: £8,500 to £13,000.
Large dog breeds: £7,400 to £17,000.
This is an estimation based on the minimum lifetime cost that you will need to care for your dog and provide for them. It will vary according to your dog's size, breed and how long they live.
Your dog could cost you as much as £33,000 over their lifetime if you decide or need to spend more on their ongoing care.
Bear in mind that this estimate doesn't include vet fees if your dog becomes ill.
The Initial Cost of Getting a Dog
Apart from the dog care basics mentioned in the "First-Time Dog Owner's Kit" section, you'll also need to pay for:
An initial course of vaccinations.
Microchipping.
The estimated costs for these are (including the basics):
Small dog breeds: £370.
Medium dog breeds: £390.
Large dog breeds: £425.
The Ongoing Cost of Looking After Your Dog
Finally, there's also a monthly cost to be aware of. You will need to pay for things such as:
The estimated monthly costs for these are:
Small dog: £70.
Medium dog: £80.
Large dog: £105.
To these, you could add: 
£126/m for a dog sitter.
£286/m for a dog walker. 
£244 for grooming, if your dog's fur is high maintenance.
Dog Parenting Curiosities
Millennials are now the largest demographic/segment of pet owners.
This was revealed in a new study of pet owner behaviour, which also found important differences in the ways millennial pet owners make decisions about their pets' care compared with older pet owners generations.
According to the American Pet Products Association, millennials are more likely to:
Invest more time in their pets, evaluating their needs more thoroughly and spending more money.

Use veterinary products preventively rather than just as a treatment.

Use products continuously versus intermittently.

Get dental cleanings and use dental rinses.

See veterinarians as integral to their journey as pet owners.
Millenials believe that preventive care involves emotional well-being, exercise, nutrition, play, and veterinary care. They consider themselves the ones responsible for providing these things.
Millennials are also more likely to get their information from multiple sources to support a decision and value instant access and communication.
For example, reaching out to the veterinarian using alternative methods (social media, email, text, chat).
Also, millennial dog owners are moving away from small dog ownership and toward medium-sized dogs. In one segment of the study, 50% of millennials owned a medium-sized dog compared with 34% of older dog owners.
Finally, pet ownership is becoming more balanced between men and women.
More millennial dog owners are male (39%) compared with older dog owners (29%). Also, more millennial cat owners are male (46%) compared with older cat owners (31%).
Summary
As a first-time dog owner, this may have been a lot to take in one go.
However, being equipped and more informed should help direct you in a direction that will create a long-lasting relationship with your dog – you know, the one you've always been dreaming of!