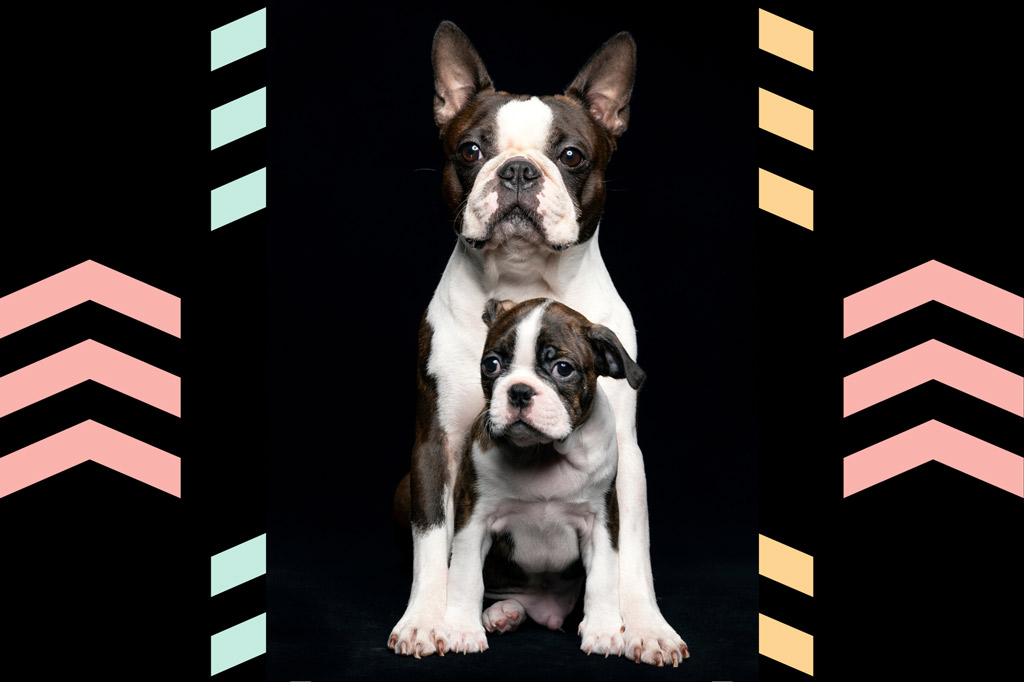 Boston Terrier puppies go through different development stages on their way to adulthood.
Knowing what you can reasonably expect from your Boston during their development is very helpful for dog parents. Not only does this help reduce or remove any frustrations, but it also sets you up for success when it comes to providing for your puppy needs at each stage, allowing you to appreciate each stage of your pup's growth..
P.S. At the bottom of this page, you'll find an "age-to-weight-to-height" table (that can help you decide what metrics to look at for your Boston Terrier's age) and a growth graph (so you know when you can expect them to stop growing – male or female).
Let's dive into the different growth stages for your Boston Terrier and what to expect in each phase!
Boston Terrier Growth Stages
Large dog breed puppies grow and mature much more slowly than small and toy dog breeds.
Boston Bull Terriers are considered a small breed, so your pooch will reach adulthood quicker than a Labrador, for instance.
Here is a quick look at the general growth stages and timeline:
The Neonatal (Newborn) Stage: From birth to around two weeks of age.
The Transitional (Baby) Stage: Around two to four weeks of age.
The Socialization Stage: From three to twelve weeks.
The Ranking or Juvenile (Teenage) Stage: Three to six months.
The Adolescence (Young Adult) Stage: Six months to two years.
The Adult Stage: From two years of age and onward.
These are general guidelines and every Boston Terrier puppy develops differently and at their own pace. Factors such as proper nutrition, exercise, veterinary care and genetics, can all play a role in their growth. By understanding these general growth stages, you can better support your pup's development and ensure they grow up healthy and strong.
Also, whilst growing from being a puppy to a mature dog, your Boston will go through these development changes:
Physical developments.
Emotional developments. 
Growth and weight gain.
Knowing the growth stages of Boston Terriers can be helpful for several reasons.
Firstly, it can help you as a dog owner understand what to expect at each stage of your pup's development, and how to best care for them during these stages. For example, knowing that your Boston Terrier puppy goes through a socialization stage from around four to twelve weeks of age can remind you of the importance of exposing your puppy to a variety of people, places, and experiences during this time.
Understanding the different growth stages can also help you recognize potential health or behavioral issues. For example, if a Boston Terrier puppy isn't meeting certain developmental milestones, such as opening their eyes or walking by a certain age, it could be a sign of a health issue that needs to be addressed.
Finally, knowing the growth stages of Boston Terriers can also help owners appreciate the unique characteristics of each stage, and the joy that comes with watching their dog grow and develop over time.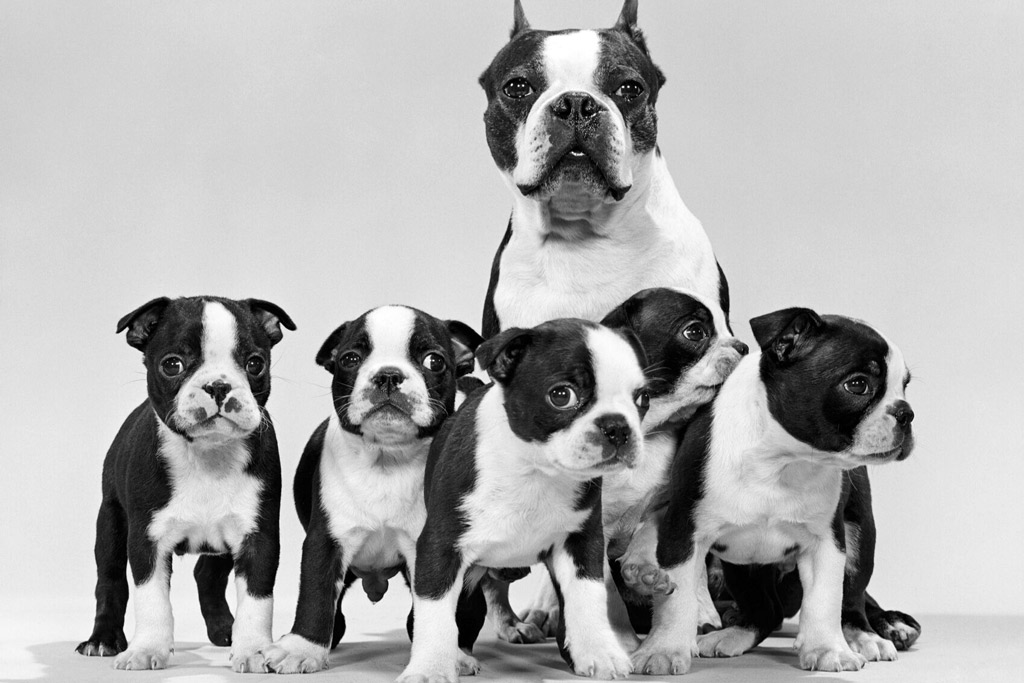 1. The Neonatal (Newborn) Stage (Birth to 2 Weeks)
This is the first stage of a Boston Terrier's life, which starts from birth and lasts for the first two weeks of their life. During the neonatal stage:
Puppies are blind, deaf, toothless, and need warmth.
However, their senses of touch and taste are immediately present after birth.
Their mother has the most influence over the puppy. She provides for their warmth and food (milk).
Puppies will mostly nurse and sleep during this stage.
2. The Transitional (Baby) Stage (2 to 4 Weeks)
At the transitional stage:
Their sense of hearing and smell will develop.
Their eyes will open.
Puppies teeth will begin to appear.
Also, puppies will start to move. They begin to stand, take their first steps, wag their tail, and even bark.
By the 4th or 5th week, a puppy's eyesight is well-developed.
A puppy's behaviour will be influenced by the mom and littermates.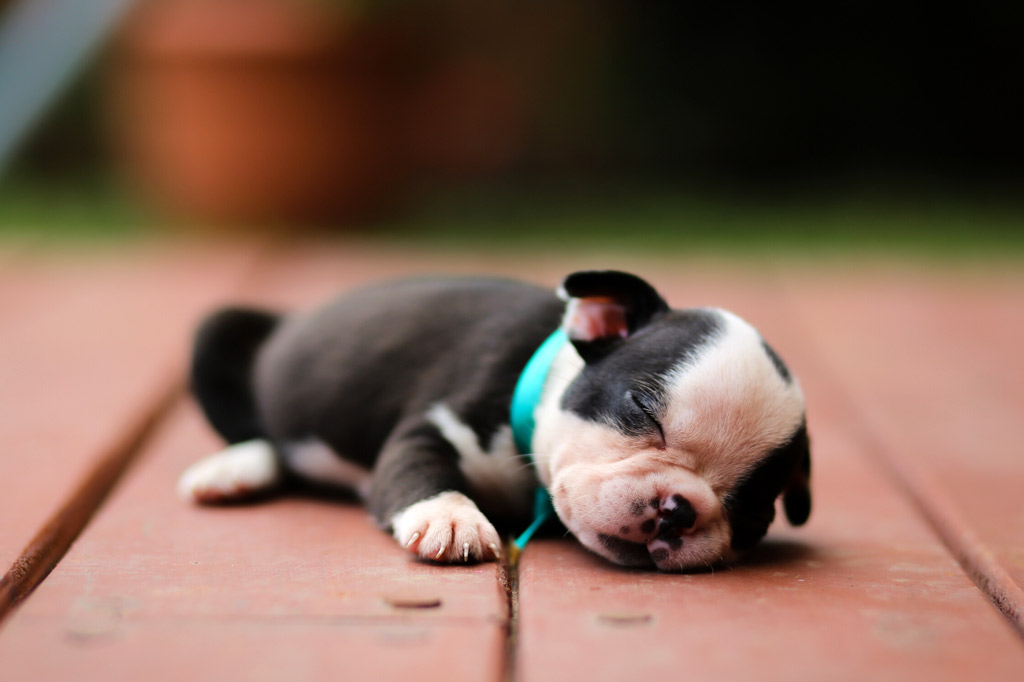 3. The Socialization Stage (3 to 12 Weeks)
This stage is key for socialization, like the name indicates, and is the period when a puppy goes through rapid development (more below).
During the socialization stage, the highlights are:
By 3 to 5 weeks, play becomes important as puppies become aware of their surroundings.
From weeks 3 to 4, pups develop control over their bladder and bowel movements. This is when they start learning to leave their sleeping area before relieving themselves.
From 4 to 6 weeks, the influence of the puppy's littermates increases. Each puppy learns more about being a dog, i.e., they start learning dog social skills such as play, interaction with other dogs, the inhibited bite, etc. Pups also explore their social boundaries, how to communicate effectively with other dogs and improve physical coordination.
From the 4th week, puppies begin forming emotional attachments and bonds with the people around them. This is still too early to separate a pup from the mother and littermates. However, this is a great time to start getting to know the puppy you intend to adopt. Many breeders recommend you to meet your future puppy a few times before adopting him or her.
By 5 to 7 weeks, a puppy needs positive human interaction as he or she develops curiosity and explores new experiences.
Between 6 to 8 weeks, puppies should start receiving vaccinations (source: American Kennel Club).
By week 8, puppies are fully weaned off their mother's milk. While puppies may start trying to sample mom's solid food as soon as their teeth start coming out, until week 4 they don't start eating solid food. The reason behind it is that during the fourth week their mother's milk production starts to slow down. From then onwards, puppies will begin to

transition to solid puppy food for the next 4 weeks

.
By week 8 too, after being fully weaned, pups are ready to leave their canine birth family and go to their new human homes.
By 7 to 9 weeks, puppies have full use of their senses. Also, they are refining their coordination and physical abilities. Plus, they can begin to be housetrained, including potty training.
At 8 to 10 weeks, a puppy can experience real fear involving everyday objects and experiences. This is when socialization comes further into play. During this stage, your puppy needs support and constant positive reinforcement.
At 9 to 12 weeks, puppies can start learning basic commands as they start focusing on people (their new parents).
Between 10 to 12 weeks, your pup is ready for the next round of vaccinations.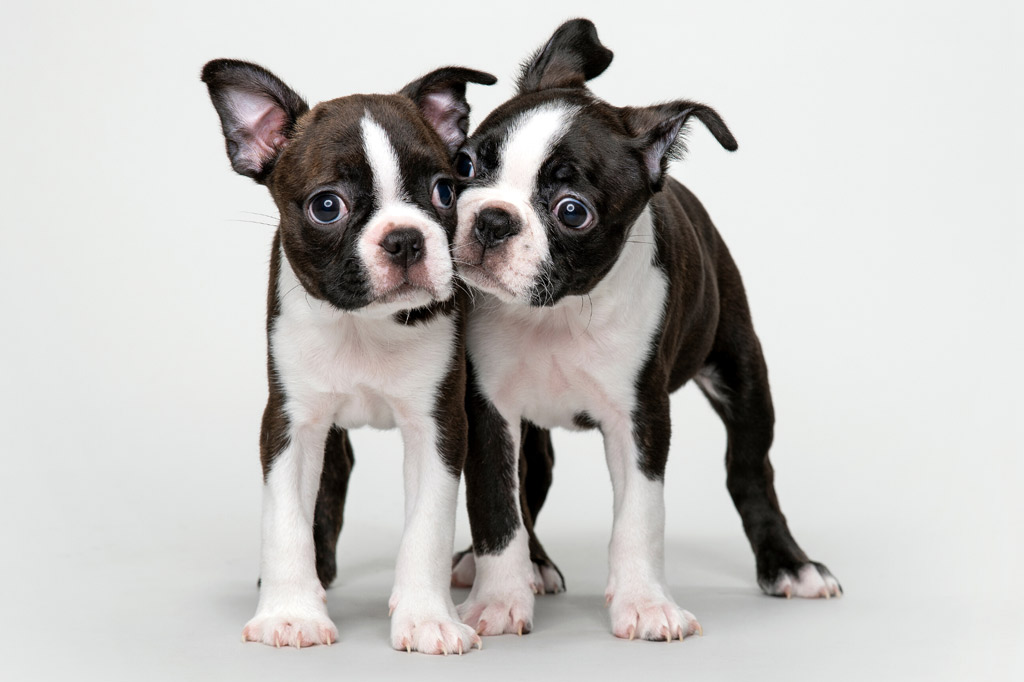 Insider Tip: Appropriate socialization before the age of 14 to 16 weeks helps puppies in developing personalities that cope with the challenges of modern life with their human owners. This also means that your puppy will learn key life skills that ensure confidence, a calm disposition and happiness.
And how can you socialize you Boston Terrier puppy?
Rather than a list of things to do, the key is to expose your puppy to "variety".
These are specific socialisation opportunities that your puppy should experience:
People: With as much variety as possible.
Animals: Especially to other dogs, cats and other pets and farm animals. Get your pooch in contact with other animals that are around where you live so they are not alien to them.
Places and environments: Your house, your garden, your car, your neighbourhood, the vet's office, the park, the beach, etc.
Alone time: Start training your pooch to know that being alone is okay. Discover how in our Can a Boston Terrier Be Left Alone? blog post.
Noises: Any home appliances, garden machinery, music, traffic, storms, fireworks, etc. You can play your pooch recorded sounds too!
Read also: Boston Terrier Socialization In 8 Steps.
The goal is to expose your pup to the surroundings and experiences that come with living with humans. As a result, you will prevent your puppy's development of fear related to new experiences.
Remember that proper socialization can influence your pup's behaviour for life, and it's probably the single most important thing that you can do for your Boston Terrier puppy.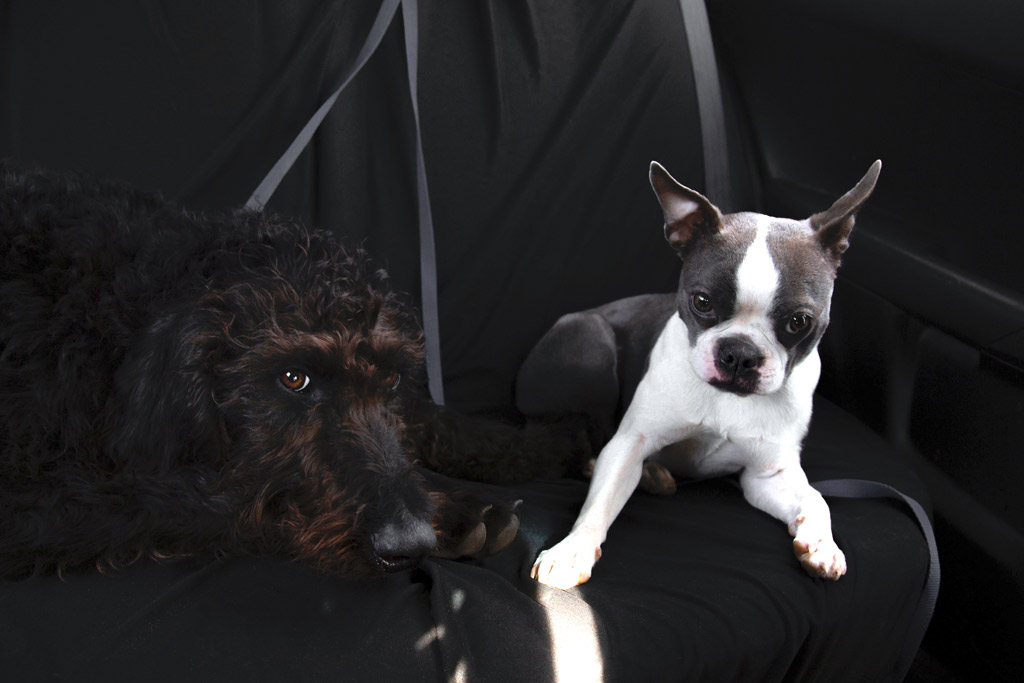 4. The Ranking (Teenage) Stage (3 to 6 Months)
Here's what to expect at the ranking stage:
Between 3 to 6 months of age, adult teeth start coming out and your pup will begin chewing.
You are the main influencer for your pup. Positive reinforcement training and spending quality time with your pooch are very important.
Key activities for a healthy development will always continue to be:
5. The Adolescence (Young Adult) Stage (6 to 18 Months)
Here's what to expect at the adolescence stage:
Between 6 to 9 months of age, sexual maturity in puppies typically occurs. Dogs experience significant hormonal changes and those changes are different for male and female puppies.
Sexually mature female dogs

typically go into heat twice a year

, about 6 months apart, each lasting about 2 to 3 weeks. The reproductive cycle (Estrous) in female dogs has 4 phases:

The Proestrus: This is the start of the heat and it lasts 7 to 10 days. The dog's vulva swells and blood flows (similar to a woman's period). Females attract males but will not allow mounting.
Estrus: This is the mating period and it lasts 5 to 10 days. Blood flow lessens until stops. Females will attract and accept males. Ovulation occurs during this time, usually 2 to 3 days after mating. Your puppy can become pregnant during her first heat, so be sure to keep a close eye on her

if you decide not to spay

.
Diestrus: This is the period after the heat and lasts between 10 to 140 days. During this time, a dog is either pregnant or in a resting phase.
Anestrus: This is a resting period between diestrus and the next heat cycle.

Males are sexually active all year-round, but they are most fertile after 12 to 15 months of age, i.e., once they are fully physically mature. Male dogs can

start marking as they become sexually mature

. They also can develop a tendency to mount and roam free.
Between 12 to 14 months, Boston Terrier's will reach adulthood. They will settle into a grown-up personality (maturity and temperament) and will stop physically growing.
6. The Adult Stage (2 years and above)
The adult stage is considered the last developmental stage:
At around 2 years old, Boston Terriers reach their full height and weight, which is typically between 12-25 pounds and 12-15 inches tall at the shoulder.
Continue to mature both physically and mentally.
Naturally active and energetic, and require regular exercise to maintain their health and well-being.
They may also experience some health issues associated with aging, but with proper care, can live long, happy lives as beloved family pets.
The key to a happy and healthy Boston Terrier has much to do with a dog's welfare needs. Boston Terrier Care is a great next step to take to support your Boston Terrier's growth. 🙂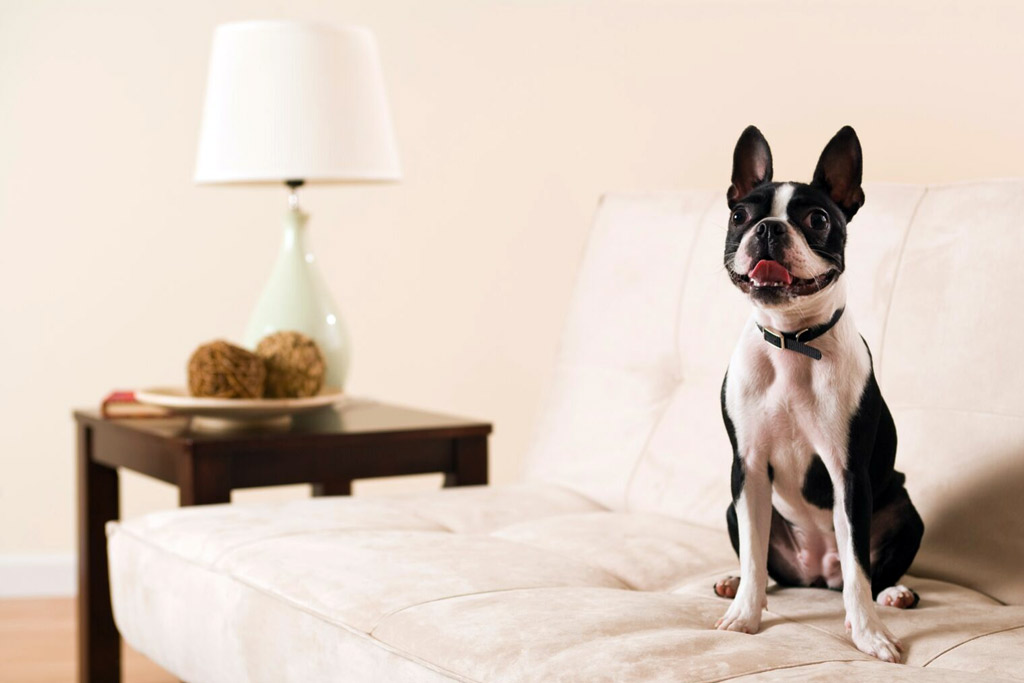 Boston Terrier Puppy Development Stages Chart
If you are thinking of getting a Boston Bull Terrier puppy OR you're already an owner of one, you might find yourself wondering:
"How big will my Boston Terrier get as a full-grown adult?"
With purebred pups, you can get a reasonable answer to this by looking at the parent dogs and the charts below. But for mixed breeds, it is complicated to know for certain.
Looking at an adult female and male Boston Terrier's weight, it varies from 4.5 to 11 kg (9.92 to 24.25 lbs) depending on their size. On average, their height is between 15 to 17 inches (38.1 to 43.2cm).
Here's a breakdown of their weight according to their age in months: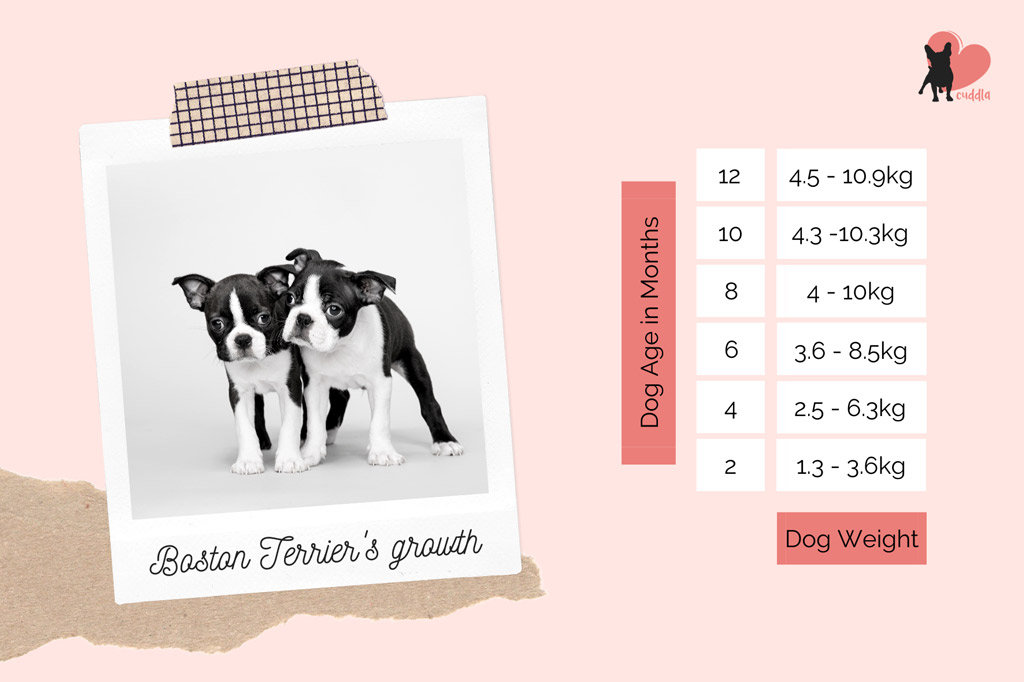 Boston Terrier Development Chart – Male and Female
Unlike some other dog breeds. there isn't much difference between the weights for a female or male Boston Terrier puppy, when looking at their stages of development; actually, they appear to be identical!
Here are some measurements that might help you decide what a healthy weight for your Boston Terrier's age should look like.
| | | |
| --- | --- | --- |
| Age Range | Weight Range | Height Range |
| Newborn | 4-8 oz (113-227 g) | 3-4 inches (8-10 cm) |
| 1 month | 1-2 lbs (0.5-1 kg) | 5-6 inches (13-15 cm) |
| 2 months | 2-5 lbs (1-2.5 kg) | 7-8 inches (18-20 cm) |
| 3 months | 4-8 lbs (1.8-3.6 kg) | 8-10 inches (20-25 cm) |
| 4 months | 6-12 lbs (2.7-5.4 kg) | 9-11 inches (23-28 cm) |
| 6 months | 8-16 lbs (3.6-7.3 kg) | 11-13 inches (28-33 cm) |
| 9 months | 10-20 lbs (4.5-9 kg) | 12-14 inches (30-36 cm) |
| 1 year | 12-22 lbs (5.4-10 kg) | 13-15 inches (33-38 cm) |
| 2 years | 12-25 lbs (5.4-11.3 kg) | 15-17 inches (38-43 cm) |
Note: these are general guidelines, and every Boston Terrier may develop at their own pace. Additionally, genetics, nutrition, and other factors can also play a role in a Boston Terrier's size and growth.
So, when can you expect a female or male Boston Terriers to stop growing?
Male or Female Boston Terriers will stop growing between the age of 12 months for the smallest sizes, and the age of 14 months for the bigger ones.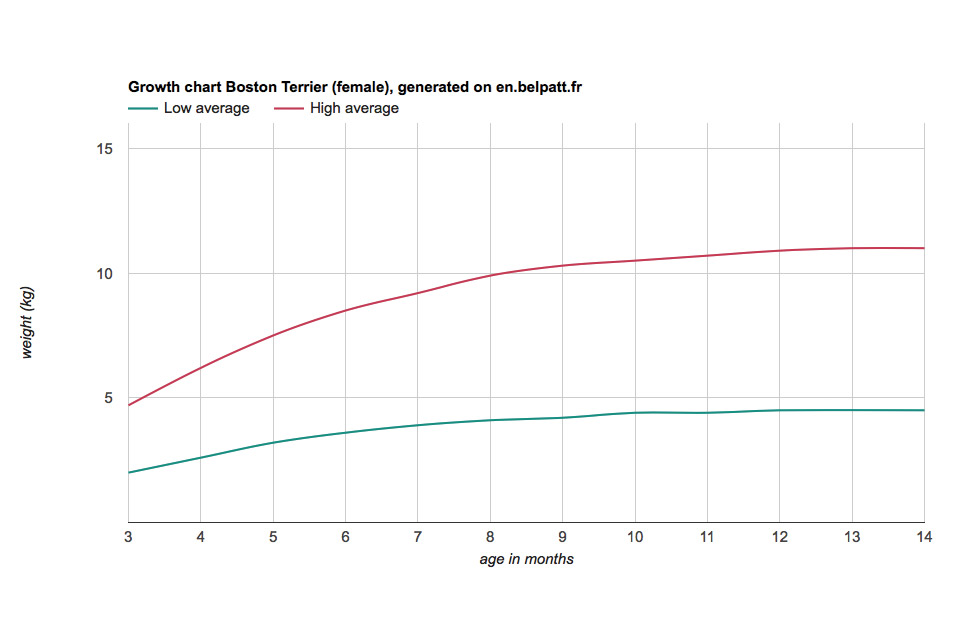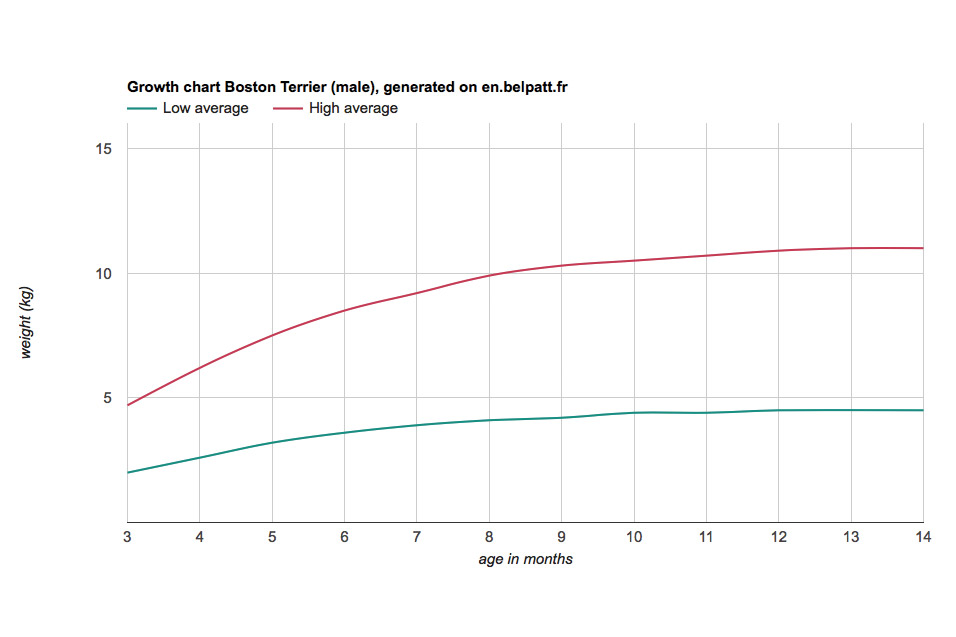 Using the Dog Size Calculator
The puppy growth calculator is powered by Omni Calculator, and they couldn't make it any simpler! All you need is to fill in your puppy's age and weight (choosing the metrics of your choice), and the dog weight estimator will process these details of your puppy to its adult weight.
Your dog's adult weight will then be displayed as a range e.g. 13 – 18 lb, also telling you what size type your dog will be and what they can measure up to in height, from paw to shoulder e.g. 18 in (45.7 cm) of height.
Try it out below:
Boston Terrier Growth
Watching your pup grow and develop is a precious thing. Time can pass by pretty quickly… and before you realize, your Boston is not a puppy anymore!
This is why cherishing each moment with your pooch keeps you connected to what you have. One of the ways I make sure to do this is to have little reminders around or add a doggie decor touch at home (or in the office).
Here are some sweet and stylish ideas for Boston Terrier lovers:
Related Questions