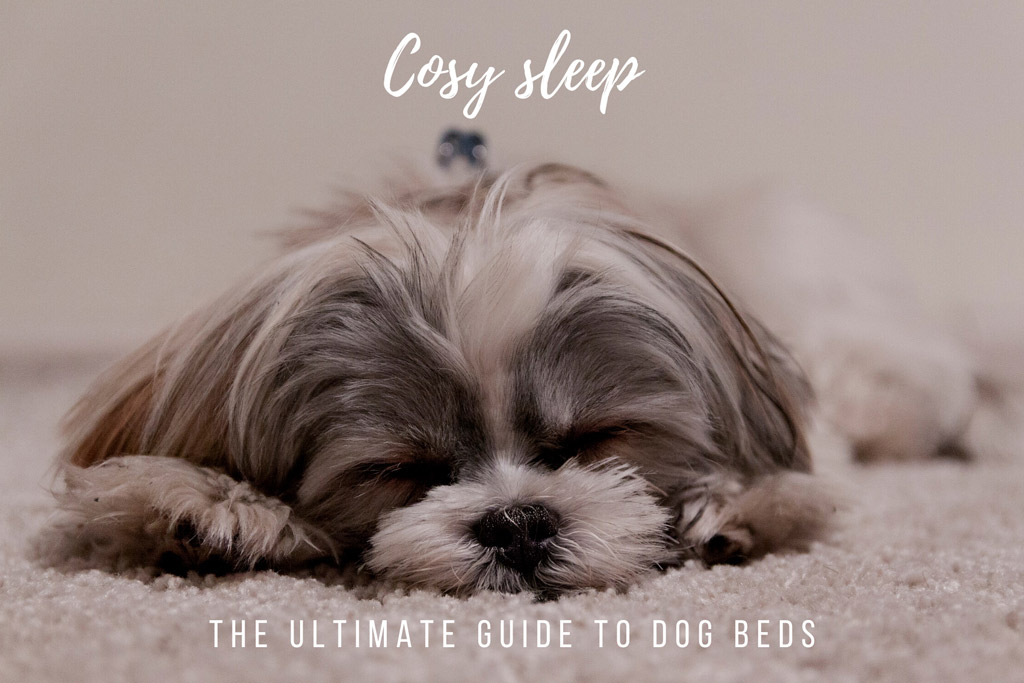 Dogs spend more than half of the day sleeping, puppies even more… so a comfy dog bed goes a long way!
With all that sleeping, your dog needs a resting place that is cosy and where she feels safe. Your dog's bed is the centre of her comfort and safety; it's where she:
Retires to rest.
Goes to take a nap.
Sleeps for the night.
Even if your dog is allowed on the sofa or/and your bed, she also needs her own bed!
So, without further ado, let's dive into how to choose a dog bed that will accommodate your pooch in particular.
How to Choose a Dog Bed
Follow these 7 steps to get the perfect bed for your furry friend:
#1 – Get the Right Size for Your Dog
The size of the dog bed in question is probably one of the most important factors, especially for larger dogs.
Tiny Terriers might enjoy lounging on a Great Dane sized bed, but the reverse isn't going to work no matter how comical it might appear.
Ideally, the bed will be at least as long as your dog is from snout to rump, but giving a little bit of extra room is a nice touch.
When getting a dog bed, measure your dog first to choose an appropriate size.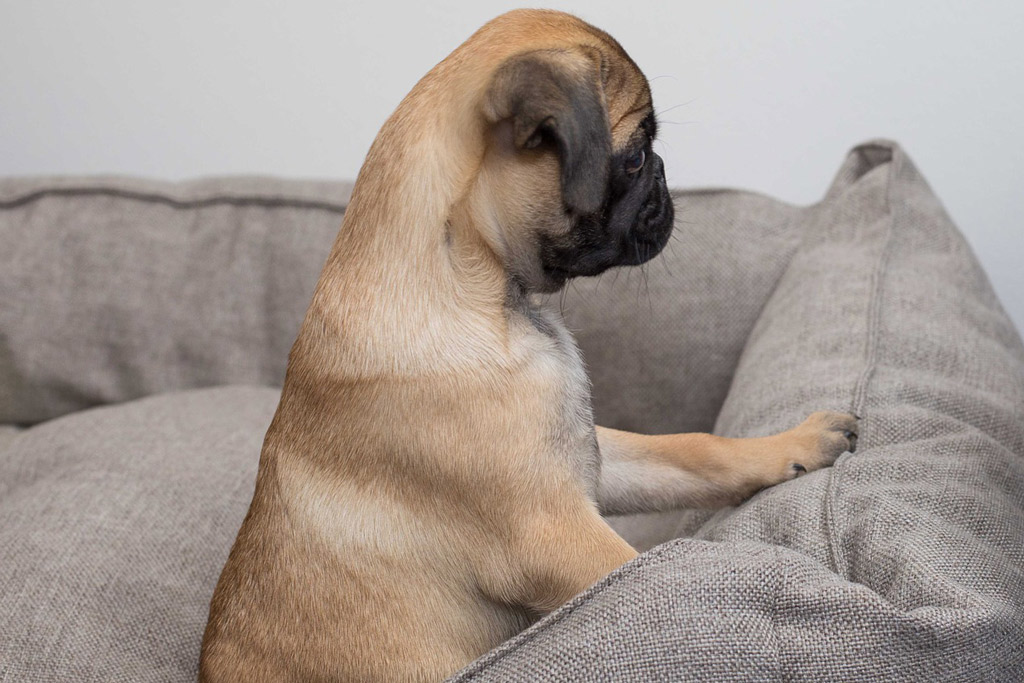 #2 – Choose a Dog-Friendly Material
Depending on the type of bed, the will also material vary.
 There are many material options for the outer layer, like: 
Natural sheepskin. 
Polyester. 
Cotton blend. 
Suede. 
Etc.
For the interior of the bed firm, going for cushy foam is a good option since it's durable and will last through many uses.
Continue reading to learn more about the different types of dog beds.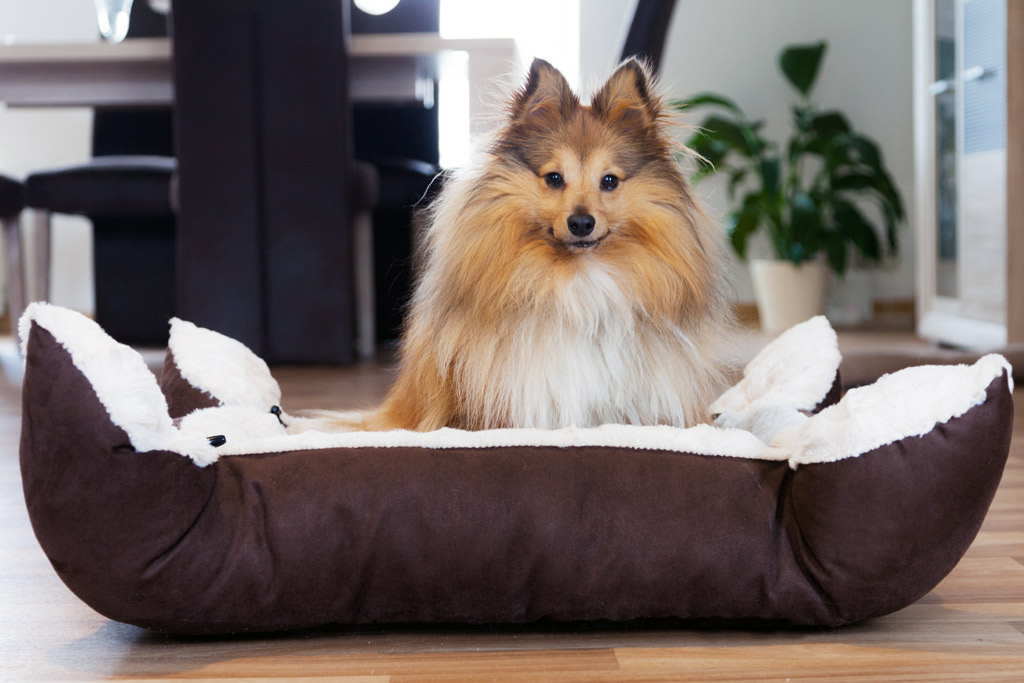 #3 – Go for Easy to Clean
You probably already know that anything your dog sleeps on is going to ultimately end up "smelly".
This means that a machine washable outer layer, at the very least, is pretty much necessary. 
Look for a bed that has a cover that unzips for easy machine washing. Otherwise, make sure that it is safe to wash the whole bed in your washing machine.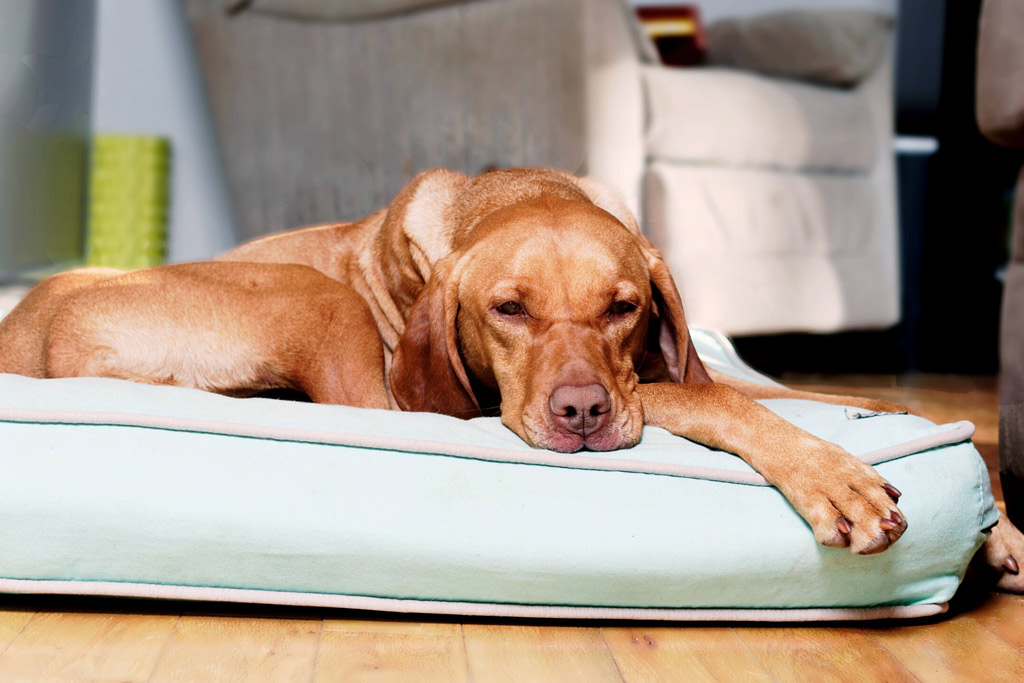 #4 – "Comfy and Pretty" Go Hand in Hand
There's no need to sacrifice aesthetics for comfort, nowadays you can have both!
Aesthetics: Looks are always going to factor in. A lot of beds come in a pretty impressive range of colours which can be suited to match any décor. The main exception to this is cooling beds which have a tendency to be the same uniform shade of blue.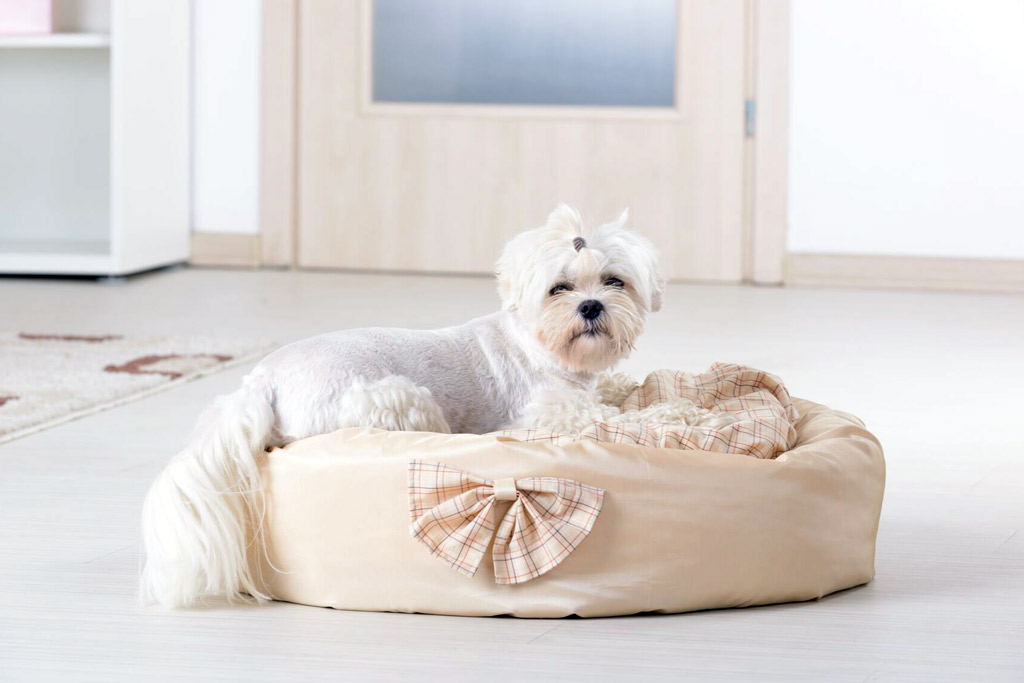 #5 – Identify Any Special Needs
This is where the different types of bed come into play.
Whether it's an orthopaedic bed for an ageing, arthritic Akita or a cooling bed for a Bulldog who's out in the summer heat there's, something to suit most needs.
There are even mostly indestructible beds for those mighty masticators who think that anything you buy them is a chew toy. 
See if your pooch has any particular needs:
Snuggle Behaviour: Cave bed.
Overheating Tendencies: Cool bed.
Arthritis Condition: Orthopaedic foam bed.
Big chewers: Indestructible beds.
P.S. Use the guide in my favourite dog beds for features on the different types of dog beds and to know which will be a better fit your dog.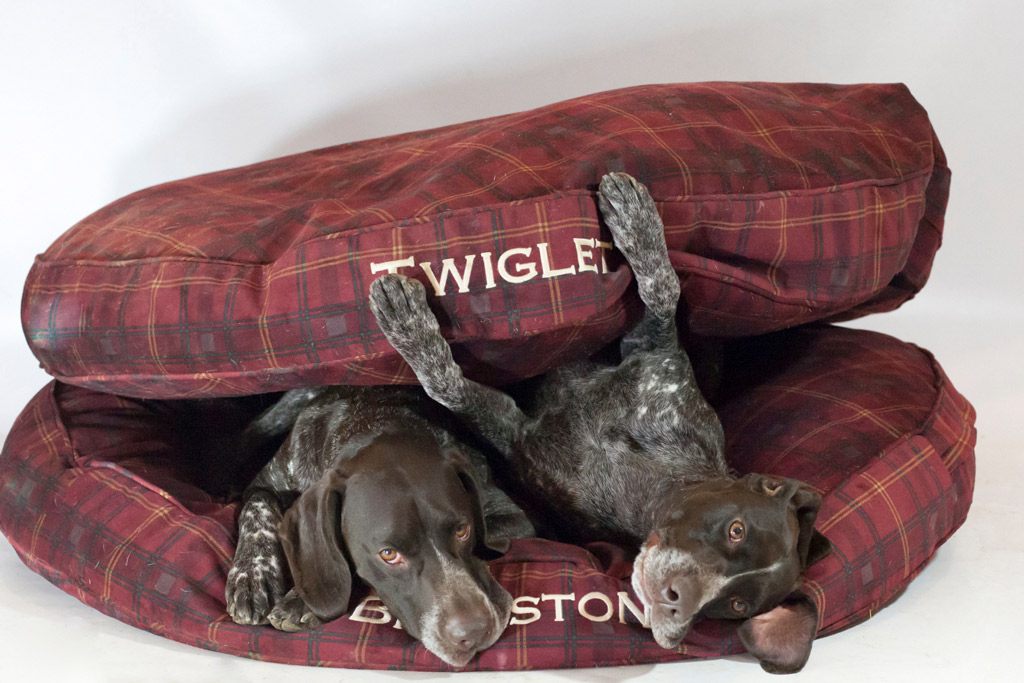 #6 – Extra Features and Benefits to Consider
Here are some extra features and benefits to consider when choosing a bed for your dog:
Bolstered sides: So your dog has a place to lay her head when she's tired. This feature is

also called headrest

. It is one of the main extras you'll see when it comes to dog beds. They can be a bit hit and miss, meaning some dogs will fall in love with their pillow and others will treat them with disdain. 
A non-slip bottom: The bottom of the bed is non-skid nylon, so the bed will stay put when your dog moves around in it. Great for certain floors especially.
A waterproof lining: If you have an older dog that tends to have urinary accidents, this ensures the bed doesn't get ruined. The cover for this one is removal so you can wash it.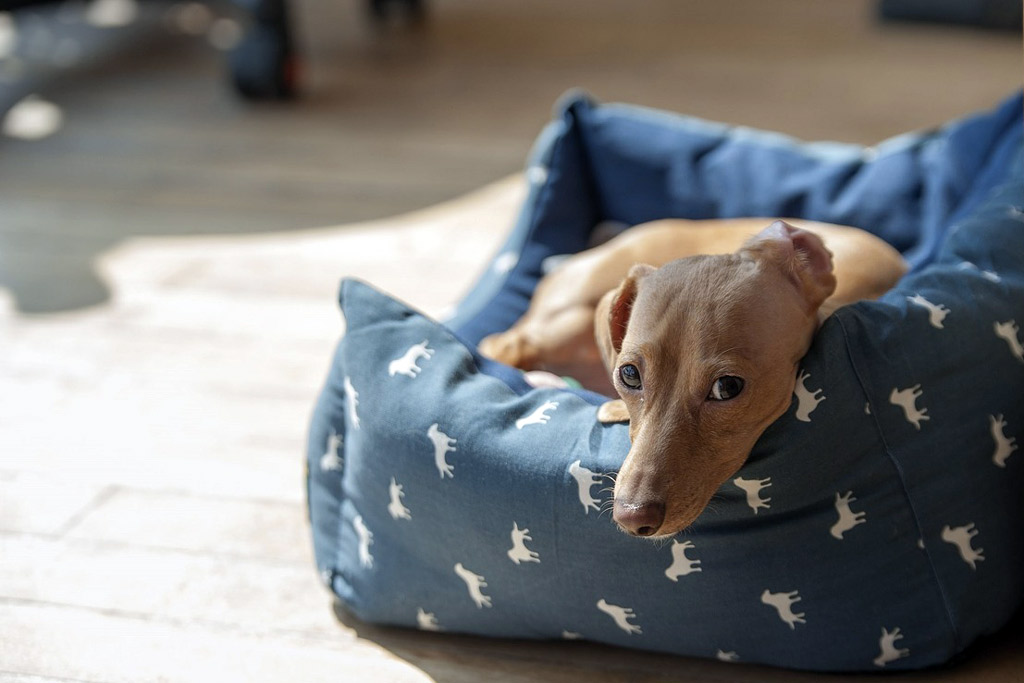 #7 – Last but Not Least: Price
Of course, the price of dog bed matters and is an important consideration.
Very few of us have an unlimited budget for our furry companions and that means that cost is always going to be a factor at the end of the day.
So especially if you're short on budget, before making a decision or disregarding certain options, it's good to keep in mind that a higher price usually means that you get a higher build quality.
It can be worth it to splurge a little bit and get a bed that will outlast four beds that cost half of one. It's a long-term investment in your dog's comfort after all!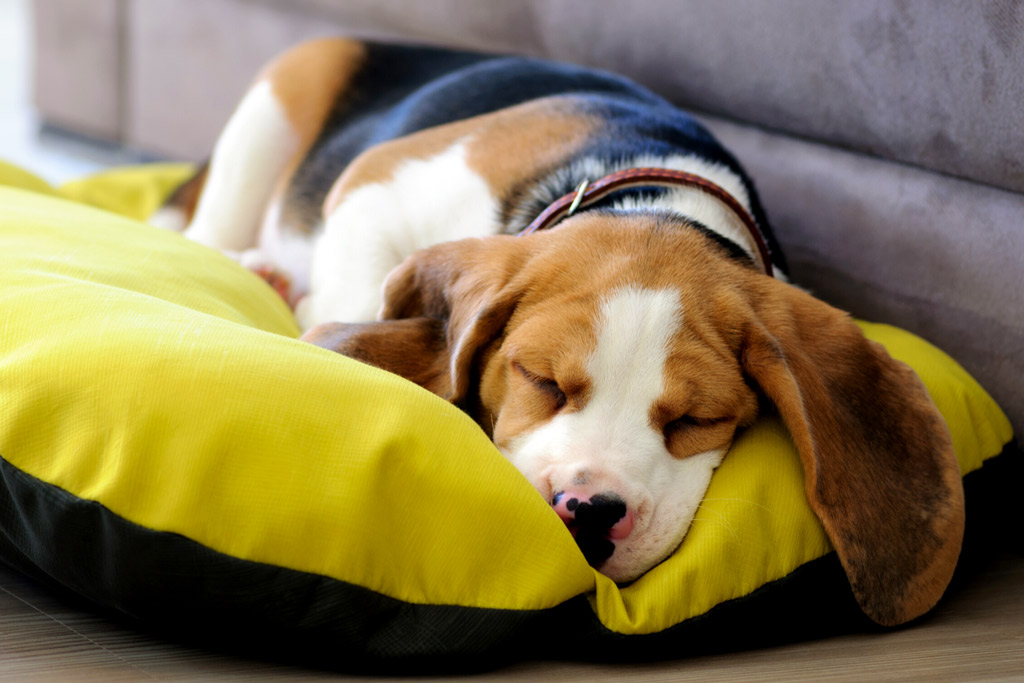 Types of Dog Beds
Here are some of the most comfortable beds for your pooch:
Soft bed: It can have a round or rectangular shape and bolstered pads all around for dogs to lean their head.
Cushion bed: A soft and flat bed with no bolster.
Sofa bed: Rectangular bed with a bolster or headrest on three sides.
Cave bed: Great for dog breeds that like burrowing, like Boston Terriers and Dachshunds.
Heated bed: This is a flat bed with an electric or insulating layer, ideal for dogs who love warmth. It feels good even in the summertime because dogs will often seek a spot in the sun to rest. Alternatively, you can place a dog bed warmer inside your pup's bed!
Cooling bed: There are a lot of breeds that are surprisingly prone to overheating (like Brachycephalic breeds – Pugs, French Bulldogs, Boston Terriers, etc.) despite their lack of huge coats of fur. You can make their lives a lot easier in the summer with a cooling bed. 
Orthopaedic dog bed: Consider your dog's specific needs when picking out a dog bed. If your dog has arthritis problems, for example, a soft bed with low edges is easy to get in and out. Also, the memory foam ensures better support and rest for weary joints. This water-resistant orthopaedic bed is perfect for senior dogs.
Dog house: An indoor dog house, which has a ceiling and multiple entry points, ideal for small dogs.
Dog tent: Another alternative if you want a ceiling over your dog's head when sleeping for extra cosiness and blocking the light.
And don't forget that with my favourite dog beds guide, you'll discover more about the features for each dog bed and which bed is suitable for your furry companion.
A Final Thought
Once you have the right bed for your pooch…
Add a doggy blanket (Amazon link) for burrowing and extra warmth – your dog is going to love it! Some have a great time going under it, turning it around…etc.
You can also put your own old t-shirts with your scent. This is to soothe your pooch when she's alone, and because she can never get enough of you ;)).