Best Dog Care Home or Away Service: Sitting, Walking & Boarding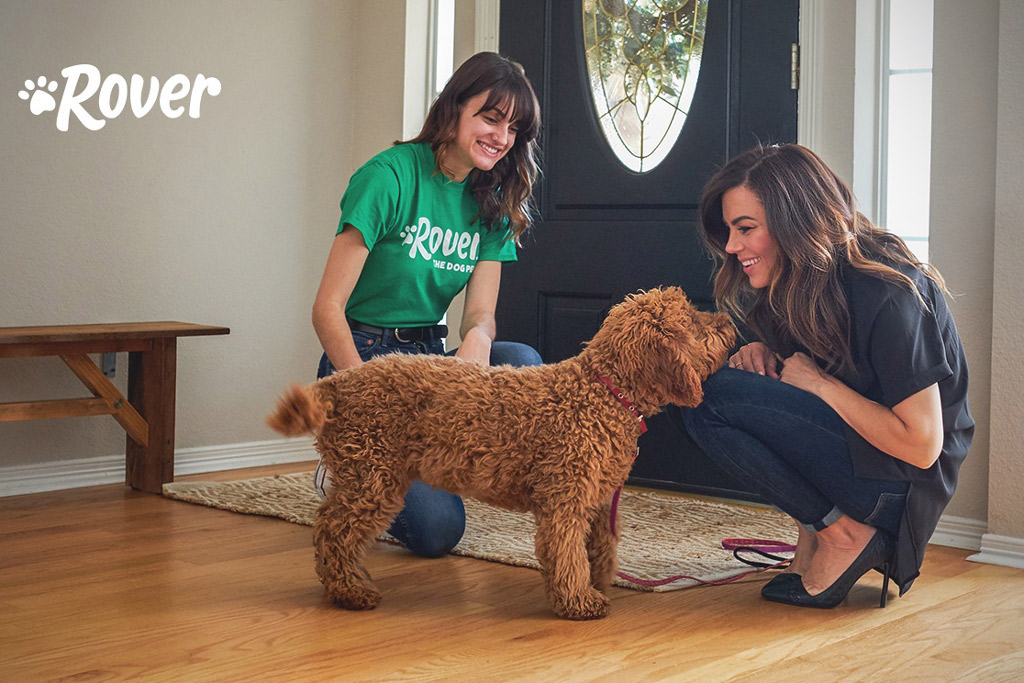 There's no escaping it.
Regardless if you're a single dog parent, a couple, or a family with kids, there will come a point where you will be "physically" away from your pooch, either on a regular basis or over a period of time.
And this is usually for various reasons:
You're going away on holiday and cannot take (or you're not taking) your dog along.
Your work keeps you away for long periods, either on a daily basis or, say, a work trip.
A sudden or unexpected event.
In fact, what to do when going away on vacation is a top concern for most dog parents, which is one of the reasons I talk more about this and the different options in our Dog Care When You are Away on Vacation (Without The Guilt) post.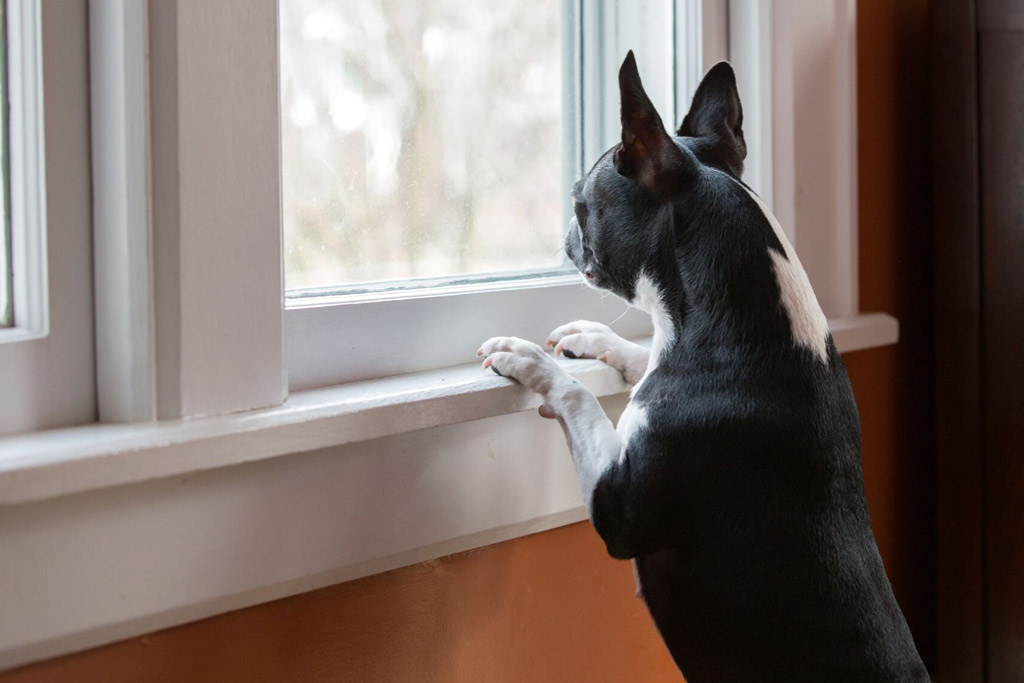 In that blog post, I share the advantages and disadvantages of the different options, depending on your situation and budget.
But vacation or not, the concerns of placing your dog's care to someone else are the same.
Let's talk about them.
Dog Care Concerns
Trust
There is one thing dog owners and dog lovers alike would say without hesitation:
Our furry companions are more than just pets. Way more. They are an extension of you and your home. A part of the family.
"From the time we bring home a puppy that is a furry bundle of joy, dogs become part of our families. They grow up with our children, move through phases of our lives with us…and when it comes time to tell them goodbye for the last time, we mourn over them just as we would human family members."

Dr. Mary Burch, animal behaviorist and director of the American Kennel Club's Canine Good Citizen program.
So naturally, our doggy's health & safety is a top priority. This makes trust an important factor in deciding who to put your dog's care in while you're away.
Expertise
Putting our dog's care in the hands of good friends or family is usually the go-to (& ideal) option when away (read more about this option in the Family or Friend section in our Dog Care When You are Away on Vacation (Without The Guilt) post.
However, they aren't necessarily dog professionals and may be less likely to recognize a potential problem and have other doubts based on their experience, comfort level and other expectations.
In reality, your pooch's needs vary and can sometimes need more specialized care and attention, depending if they are:
A puppy.
An older dog.
Disabled.
Requiring medication.
Prone to separation anxiety.
While there are also other things to bear in mind when leaving your dog with family or friends, there is a simple formula I follow:
Their Expertise + Experience = Your peace of mind

The more expertise they have, the more comfortable you are
Convenience
Relying on friends or family to take care of your pup when you're away may not always be a convenient or an available option either.
You always want to know that you can get hold of someone realiably to either come over or drop fido off at relatively easily. Without the hassle or stress.
Also, your pup wil feel more comfortable in their own environments, so having someone come over for feedings, walks and playtimes is a great option.
Even better if your dog already knows and likes the person, and vice-versa – the person actually enjoying coming over to take care of your pooch. You will feel more confident leaving your dog's care to them.
Meet Rover – Best Dog Care Service
Luckily, there are companies out there that understand and can relate deeply to the same way we do about our adorable, furry children.
Meet Rover. One of their taglines actually reads:
"We're the treat-your-dog-like-family dog people".

Rover.com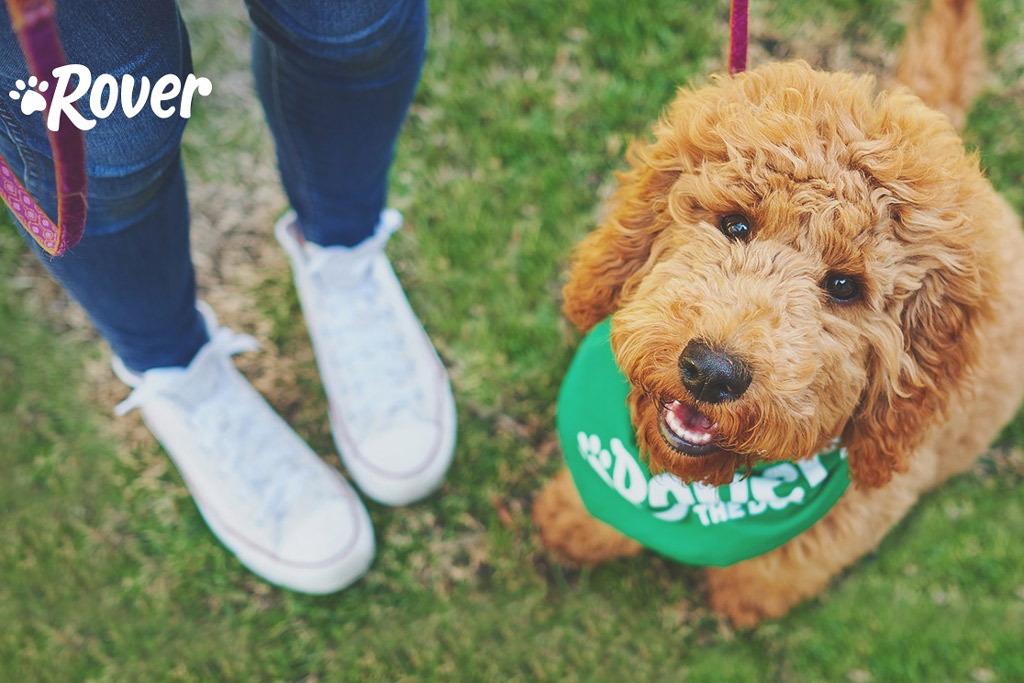 And indeed, they make sure to reflect this in their services and employees. So how do they match up to the 3 points of concern just discussed?
My Concerns
How Rover matches up
Trust
– The nation's largest network of pet sitters and dog walkers.
– Verified reviews from dog owners like you.
– Rover sitter

will keep in touch with pictures and updates

during their time with your doggy.
Expertise
– Vetted employees.
– Some sitters have pets of their own for your dog to play with, while others offer plenty of one-on-one attention.
Convenience
– A ton of different services to help you give your pooch the attention and care they deserve.
– Highly available and accessible to fit your time and schedule.
– You choose who you want at all times.
I particularly love the fact that they send updates. I don't need to worry about my four-legged friend while I'm away, as the Rover sitter will keep in touch with pictures and updates during their time with my pooch!
I can feel that they truly are animal lovers, especially  with their amazing customer care, which makes me trust that I'm getting an incredible service.
Here's a quick preview of Rover's services: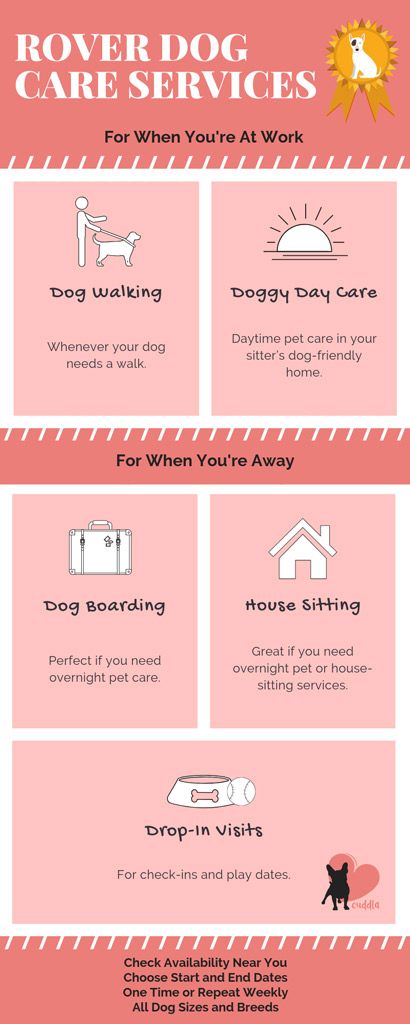 Getting Started with Rover
Here's how it works.
Sign up with Rover.com, using either your email or Facebook account.
Start your search for pet sitters and dog walkers in your neighbourhood and read reviews to find the right fit.
Connect with a sitter and set up a free Meet & Greet so you can get to know your sitter or walker in person before you book.
Relax and enjoy adorable photos and updates on your pet's adventures while you're away.
When signing up, use this link to get $10 discount off your first booking.
Also, don't forget to download the app!
Rover FAQs
Rover's Help Centre provides one of the best and most comprehensive list of questions and answers, including popular questions, that I've come across.
You'll find answers to questions such as:
How do I contact a sitter or dog walker?
What are the service fees?
How long will it take Rover to review my profile?
Is Rover right for my dog?
How do I log in to my account?
How do I find a sitter or dog walker for my dog?
How do I choose the right sitter?
What does Rover do to support safety?
And even if you can't find what you're looking for, there's a Q&A community (and of course you can always contact their support as well).