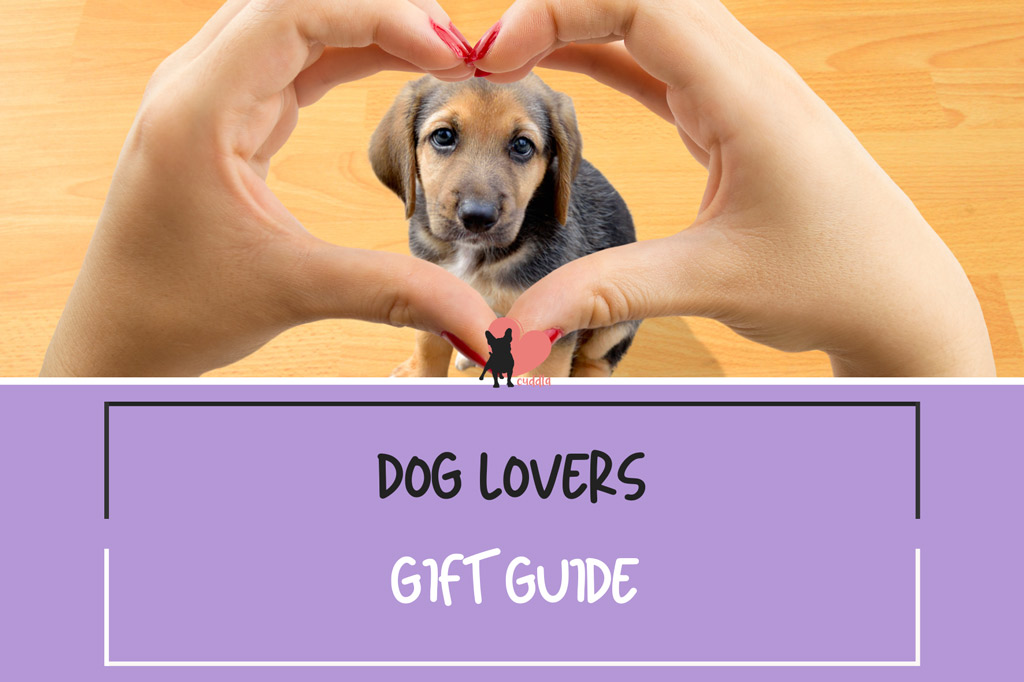 We all have a two-legged human friend who is a barking passionate, pup-loving, furry-cuddling dog lover. 😍🐶
You know that all things dogs makes them smile and brightens their day more than anything else, and you might be looking for something special as a gift…
Indeed, you've landed in the right place!
No matter the occasion (or price point), I put together this guide so you're sure to get some ideas from this collection of 30 best gifts for dog lovers. ❤️
30 Best Gifts for Dog Lovers
From wearables to decorations to books (and more!), here are 30 gift ideas for humans who love dogs… yes, that's even if they don't have a dog:
---
Hope you love the products we've carefully selected to recommend. Cuddla is reader-supported and we may earn an affiliate commission from qualifying purchases from the shared product links.
---
#1 – Dog Mom Cap
Being a dog mom is hard work. After all, dogs don't walk themselves!
Any dog mom would love this cute 100% cotton cap. Check out the different colours!
Embroidered Dog Mom Baseball Cap, $10.99.
#2 – Heart Paw Pendant Necklace
This heart-shaped pendant with a dog paw print is a great way to commemorate a beloved dog and keep your pet close to your heart or just express your love for dogs. 🙂
Sterling Silver Heart Paw Pendant Necklace, $25.09.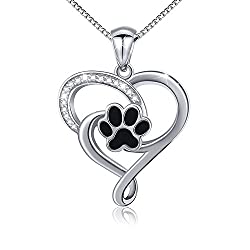 #3 – Wipe Your Paws Welcome Mat
This is a great housewarming gift and a practical one since we know how fond dogs are of mud!
This doormat is made of natural rubber. It can be used indoors or outdoors and comes in two different sizes.
Wipe Your Paws Welcome Mat, $39.99.
#4 – "How Dogs Love Us" Book
Have you ever wondered what your dog is thinking? If they dream of you? If they miss you?
This book might just have the answer to all of those questions. 
How Dogs Love Us: A Neuroscientist and His Adopted Dog Decode the Canine Brain, $19.95.
#5 – Dog Butt Magnets
How's your sense of humour? Wanna smile every time you open the fridge?
Then this assortment of wagging tails with some of our best-loved breeds (plus a bright red fire hydrant for good measure), designed by Steph Mantis, will be sure to get you giggling.
Kikkerland Dog Butt Magnets, $13.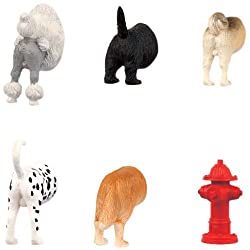 #6 – Dog Themed Kitchen Textiles
Is your friend a foodie?
This is a great hostess gift for dog lovers: dog themed tea towel, oven mitts and apron! 100% cotton!
It's both a thoughtful and functional gift that adds life and character to the kitchen.
Now Designs' Dog Days Tea Towel, $9.44.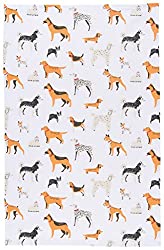 Now Designs' Dog Days Oven Mitts, $15.99.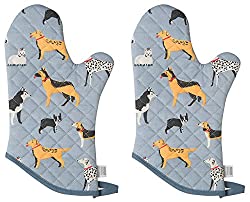 Now Designs' Dog Days Apron, $19.99.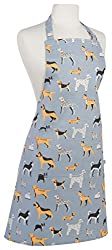 #7 – Dog Paw Print Ornament
This paw prints keepsakes makes a unique gift for new dog parents or dog lovers. 
Help them make their home feel even more festive with this adorable ornament-making kit.
Pearhead's Pet Pawprint Hanging Keepsake Ornament, $9.95.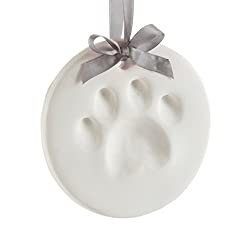 #8 – "Dog Mom Life Is Ruff" T-shirt
This comfy T-shirt will become your friend's new uniform! It's perfect for both for lounging or taking their pooch for a walk!
It comes in five different colours!
Dog Mom Life is Ruff T-shirt, $16.99.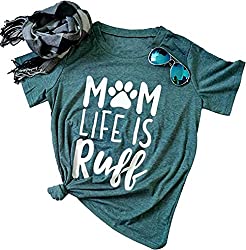 #9 – Pet Odour Eliminator Candle
Our four-legged friends can leave our homes smelling less than fresh… maybe even a little smelly.
This pet odour eliminator candle is made of 100% natural soy wax. It's made in the U.S. and it's pet-friendly – i.e., it contains no paraffin, dyes, phthalates, parabens and formaldehyde.
Bonus: It comes in 20 fragrances!
Pet House Candle – Lavender Green Tea, $21.95.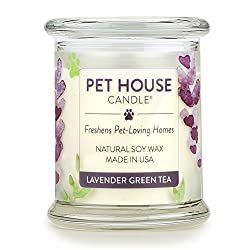 #10 – Dog Themed Socks
Keep those human paws toasty with these dog themed socks.
You can choose a pair of socks with your dog breed themed design. Available for men and women!
Socksmith's Women's Dog Themed Socks, from $7.20.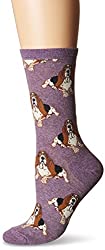 #11 – Dog Humor Tote Bag
Funny graphic humor with this 100% heavy cotton tote bag.
"Leave Me Alone, I'm Only Speaking To My Dog Today" Tote Bag, $12.99.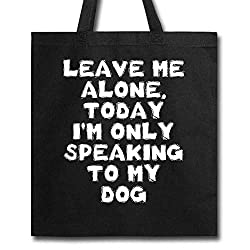 #12 – A Dog Novel
The funny, heart-breaking, wonderfully told story of love, family and overwhelming loss which led Emily Dean to find hope and healing in the dog she always wanted.
"Everyone Died, So I Got A Dog" by Emily Dean, $17.58.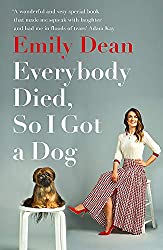 #13 – Dog Quote Mug
Tea or coffee?
Add some humor to your morning cup of…
"Everything Tastes Better With Dog Hair In It" Mug, $12.95.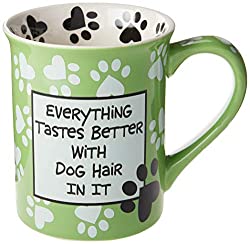 #14 – Dog Friends Flannel Sheets
This is a cosy gift for cold winter nights – a set of premium flannel sheets from Eddie Bauer with a dog-and-puppy print.
Eddie Bauer Dog Friends Flannel Sheets, from $38.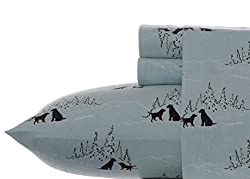 #15 – Dog Quote Wine Glass
A perfect gift to enjoy a beverage together… your dog by your side, of course.
"It's not Really Drinking Alone if the Dog is Home" Wine Glass, $14.99.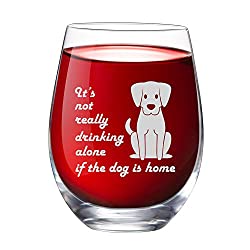 #16 – Dog Print Backpack
A durable, functional, and versatile backpack with a beautiful all-over French Bulldog print!
JanSport Half Pint Fierce Frenchies Backpack, $25.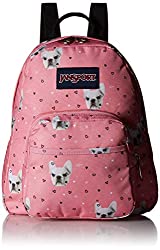 #17 – Dog Training Book
Zak George is a new "breed" of dog trainer.
A dynamic YouTube star and Animal Planet personality with a fresh approach, Zak helps you tailor dog training to your pet's unique traits and energy level—leading to quicker results and a much happier pup.
"Dog Training Revolution: The Complete Guide to Raising the Perfect Pet with Love" by Zak George, $13.09.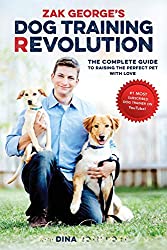 #18 – Dog Print Water Bottle
Do you know a dog person who's always on the move?
This playfully designed (all-over wiener dog print) water bottle is BPA-free and it's made of food-grade stainless steel.
Bonus: It will keep beverages cold and hot longer.
S'ip by S'well "Top Dog" Stainless Steel Water Bottle (15oz), $19.99.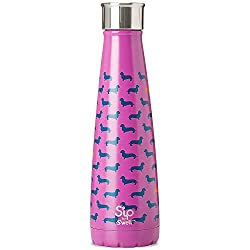 #19 – Dog Themed Coasters
These sturdy stoneware coasters will keep your friend's tables moisture-free while showing off their one true love: dogs.
"All You All You Need is Love and A Dog" Coasters, $15.50.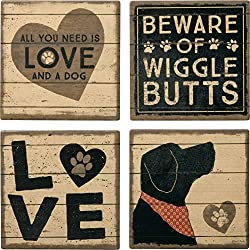 #20 – Cast Iron Dog Tail Hook
Whether they use it as a key hook, leash holder, coat hanger… this cast iron dog tail hook is easy to install, and sure to make your gift recipient giggle.
Mud Pie Novelty Dog Leash Hook Hanger, $13.99.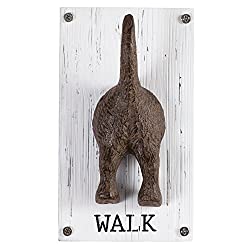 #21 – Iridescent Balloon Dog Phone Stand
For the dog lover who loves modern art…
This Balloon Dog is a fun pop of colour and support while posting all those dog pics to Instagram.
Case-Mate's Iridescent Balloon Dog Phone Stand, $9.99.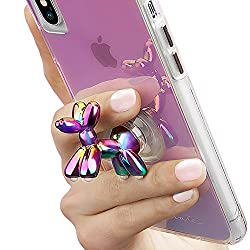 #22 – Silicone Molds with Dog Treats Cookbook
Get creative in the kitchen with these human food-grade silicone treat molds and recipe book.
Silicone Dog Paw and Bone Molds with Organic Dog Treats Cookbook, $20.97.
#23 – Doggy Sticky Tabs
What better way to mark up a book or write a note than with a darling doggies sticky tab.
Buy a set for yourself as well!
Ooly Note Pals Sticky Tabs – Darling Doggies, $7.98.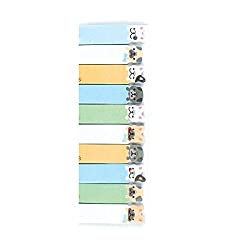 #24 – Dog Paw Sticker Decal
Get a dog sticker to put in the car, laptop, phone, water bottle…
Yin Yang Human Hand Dog Paw Sticker Decal, $4.99.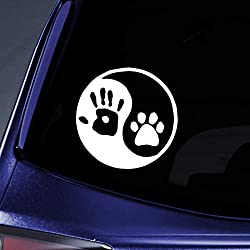 #25 – Dog Shaped Chopstick Rest
Try not to squeal in delight over this cute gift. Any dog lover would be thrilled to add this fun chopstick rest to their kitchen lineup.
And if they don't use chopsticks, this ceramic stand can easily work as a rest for paintbrushes, teaspoons, or makeup brushes. 😉
Ceramic Dog Chopstick Rest, $7.99.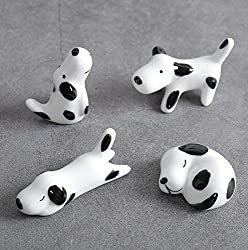 #26 – Find Momo Book
This is a fun activity for dog lovers of all ages!
My niece loves to play hide-and-seek, and I use this as our little game to see who spots Instagram's favourite Border Collie first – who is hiding in every page of this book of beautiful landscape photography (my niece always wins, of course).
"Find Momo: A Photography Book", $8.02.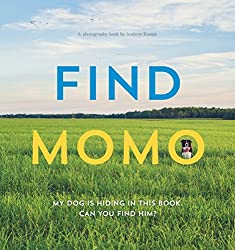 #27 – Family and Dog Matching Pajamas
Pajamas (or Pyjamas) for everyone, including your dog! Start a holiday tradition with a matching set!
Family and Dog Matching Pajamas, from $19.99.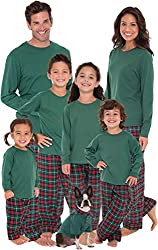 #28 – Dog Print Lanyard
This lanyard is the perfect accessory for people who have the absolute best workout partner – their dog!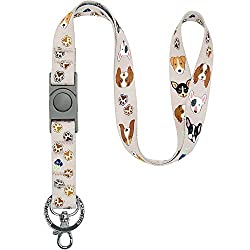 #29 – Dog Friendship Ornament
For those who love to share the spirit of friendship… this one's for you.
Willow Tree Angel of Friendship, Sculpted Hand-Painted Figure, $24.95.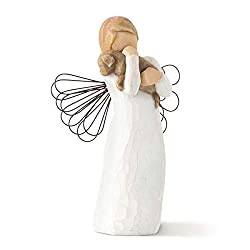 #30 – Dog Shaped Succulent Planter
For dog and plant lovers…
Choose from a Pug, Schnauzer, or Corgi (pictured) planter.
Dog Shaped Succulent Pot, $6.99.