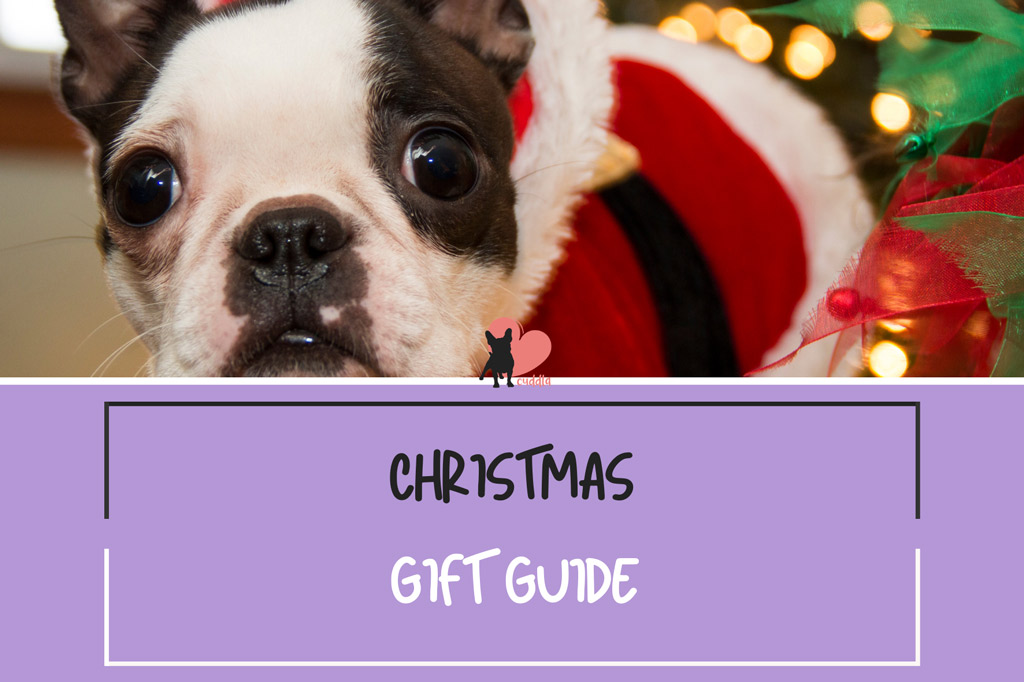 Christmas is around the corner… and there's one thing on everyone's mind – gifts for the family! If you're thinking about your furry family for the celebrations (and of course you are ;)), then you've come to the right place.
In this guide, I put together a list of dog-friendly gifts for Christmas and also address how to have a dog safe celebration!
How to Have a Dog Safe Christmas
Christmas (or any other celebration) is a great opportunity to spend time with family and friends, enjoy fantastic food and gift away.
But, it can become hazardous and stressful for your pets.
Regardless if you celebrate Christmas, Hanukkah, or another celebration – just substitute the word "Christmas" for one of your choosing – having a pet-safe celebration still applies.
Here's how to have a dog safe celebration:
#1 – Make Christmas Decorations Safe
Perhaps the epicentre of holiday danger for your pooch is the Christmas Tree. So, do some pet-proofing around it.
What I mean by this is:
Create a barrier using a plastic pen or baby gate so pets cannot access the tree.
Anchor the tree securely to avoid a dangerous tree-tipping disaster.
Make that the baubles and hanging decorations are secured to the tree.
Avoid lights altogether.
Keep decorative houseplants like holly, ivy, mistletoe, lilies, and poinsettia out of the reach since they can be poisonous if ingested.
Why?
That's because your dog could:
Accidentally knock the tree ("accidentally", she says…).
Drink from the water reservoir inside of the tree stand (only for natural trees, although you won't be the first one to water a fake plant!)
Chew on the tree and tree decorations, because "new toys! yay!" – which causes cuts, stomach upset and blockage.
Veterinarians say pets can easily die from electrocution, internal injuries, or intestinal blockage after enjoying a decorative light snack.
I don't want to put you off, but the living room can easily turn into a battlefield (and this is without mentioning the kids!)
But look forward to the joy and happiness all around!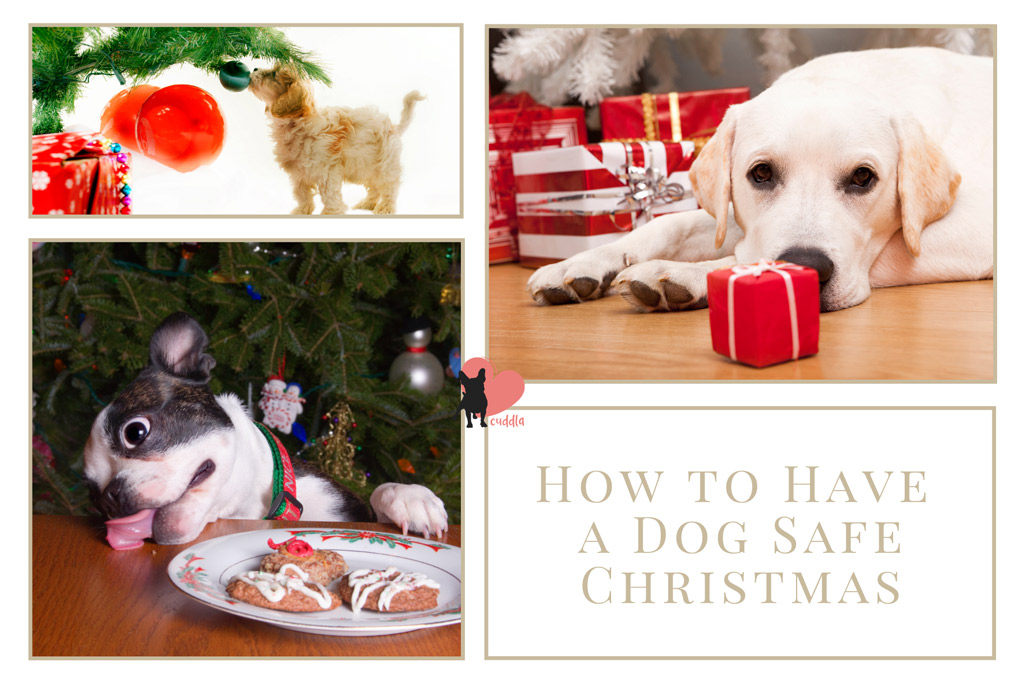 #2 – Keep Christmas Food and Sweets Out of Reach
Although festive food is delicious to us, it's highly toxic and dangerous for our pets.
Chocolate, mince pies, Christmas pudding, and alcohol are all poisonous for our pets. Plus, cooked bones are a dangerous choking hazard and splinters can puncture organs.
Since it can be tempting to shower our dogs with tasty rewards, keep your pooch happy with healthy treats instead (Gift Idea #2).
#3 – Create a Dog Zone For the Christmas Chaos
Christmas can be busy and chaotic for our pets. You can help them cope with it by keeping to their normal routine as much as possible.
Also, create a dog safe zone, i.e., a cosy and quiet place where your dog can retreat to and relax. When your pets retreat, make sure they are left alone and not disturbed by children or other guests.
#4 – Pick Dog-Friendly Christmas Gifts
Finally, gifts!
What is the best gift for a dog?
I say… anything that is dog-friendly goes! Let me give you some ideas. 😉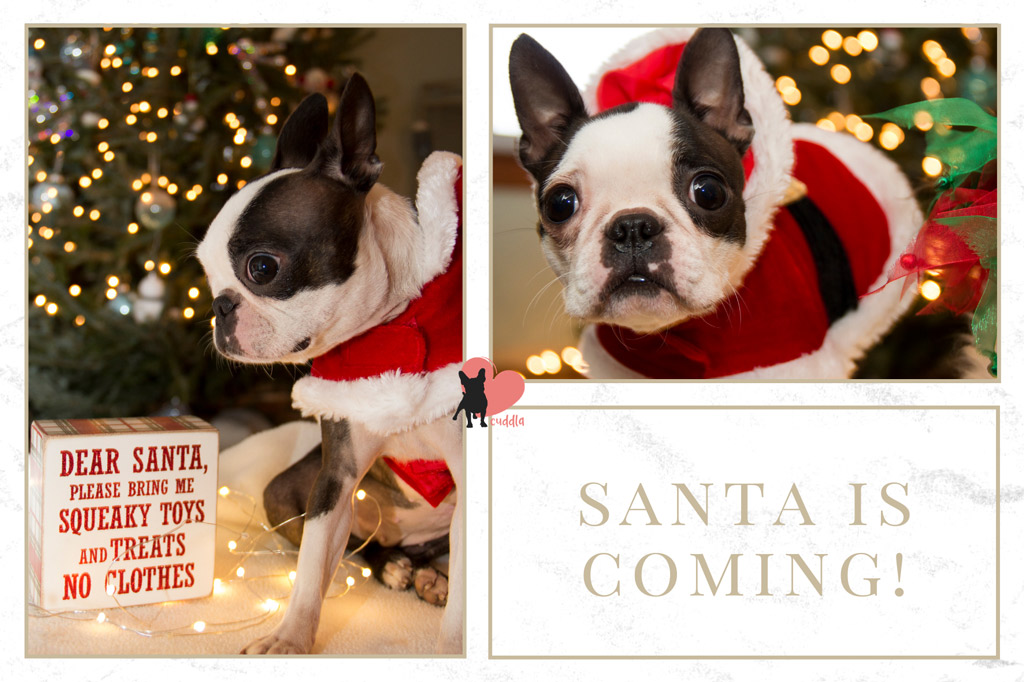 22 Dog Gift Ideas for Christmas
Here's a Christmas gift guide for dog owners (from affordable to luxury prices).
---
Hope you love the products we've carefully selected to recommend. Cuddla is reader-supported and we may earn an affiliate commission from qualifying purchases from the shared product links.
---
#1 – No Stuffing Squeak Toy
A no-stuffing toy means less mess for you and more fun for them. 😉
ZippyPaws includes a fox, raccoon, and squirrel.
Each toy includes squeakers to add more fun to the experience and keep your pooch entertained.
ZippyPaws Stuffing-Free Squeaky Plush Dog Toy, $9.99, available on Amazon.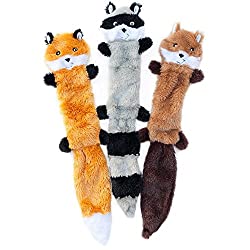 #2 – Christmas Themed Treats and Toys
You can even start celebrating early with BarkBox and its themed subscription.
BarkBox is a monthly subscription service providing treats and toys for your furry friend.
In their classic box, you get 2 innovative toys, 2 all-natural bags of treats, and a chew, curated from each month's unique themed collection.
In December, they offer Christmas themed toys and treats that are safe and healthy!
BarkBox subscription, from $35, available at BarkBox.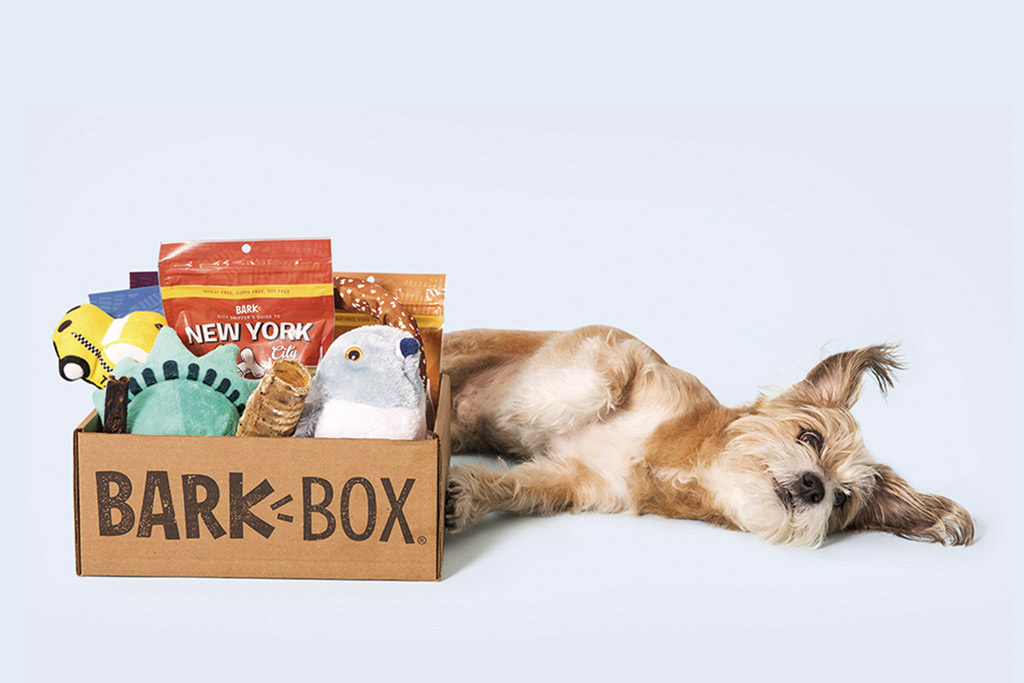 #3 – An Activity Monitor and GPS Tracker
While microchipping is essential (and in some places mandatory), it won't allow you to locate your dog.
A GPS tracker, however, will allow you to track down a missing dog instantly.
Also, it helps to keep your dog healthy with the integrated dog fitness tracker.
Tractive, which attaches to your dog's collar, is a two-in-one allowing owners to monitor their dog's health and activity as well as their location. 
Tractive GPS Tracker, $49.99 plus subscription plan of $ 4.99/month, available at Tractive.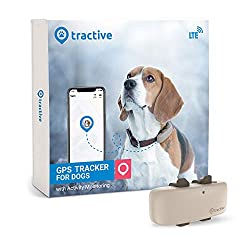 #4 – A Soothing Plush Toy
Did you know that plush toys have the ability to both calm and soothe your pooch?
Companies like SmartPetLove, which has over 20 years of experience comforting dogs, provide a natural calming solution. No medication and no restraint needed.
This specially designed plush toy helps:
With crate training by reducing unwanted behaviours such as whining and barking, which also helps YOU sleep at night.
Transitioning to a new home.
Reduces stress caused by fireworks and thunderstorms.
Calms and soothes with it's "real-feel" pulsing heartbeat, providing your dog with a snuggling companion when alone.
And it's machine washable! As long as you follow the manufacturer recommendations and use a gentle cycle.
SmartPetLove Snuggle Puppy Behavioral Aid Toy, $39.95, available at Amazon.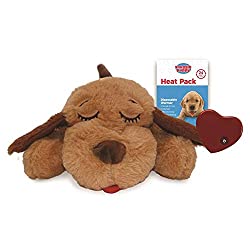 #5 – An Interactive Dog Puzzle
Dog puzzles are a great way to not only entertain but also stimulate your dog's brain and reward the effort when treats are found.
I like Trixie because it offers puzzle toys with 4 different levels:
Level 1: Lift up cones straight up.
Level 2: Move sliders with nose or paw.
Level 3: Stack on the second row of sliders that move in the opposite direction.
Level 4: Use cones as stoppers between sliders.
Plus, there are different games options available depending on the level.
For instance, on Training Level 3, there's a Chess Game (pictured), Mini Mover and a Move-2-Win.
Trixie Puzzle Toy, from $12.96, available at Amazon.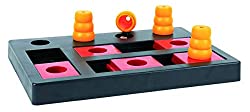 #6 – A Pet Camera that Plays With Your Pup
With Furbo, you can monitor your dog on your phone (using the free Furbo app) with a 160-degree wide-angle view, day and night.
Furbo makes you feel close to your furry friend when you're not next to them, including some other benefits like:
Do some treat tossing.
Monitors your dog with a Full HD Wifi Camera.
2-Way Audio (so you can communicate with your dog) and a barking sensor.
Dog Activity Alert function.
It's compatible with Alexa.
Furbo Dog Camera with Treat Tossing, $199, available at Amazon.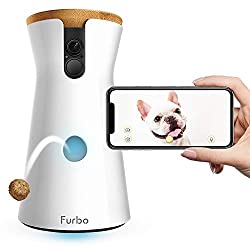 #7 – A Launcher to Play Fetch for Hours
Does your pooch love to play fetch?
We all know that picking up the ball and throwing it over and over again can get quickly get exhausting.
With the Chuckit launcher, you can throw that ball out of the ballpark over and over again! It gives your arm a break and allows you to throw the ball to much further distances (which dogs love). 
Another bonus: You'll never have to bend down and pick up a slimy ball. The launcher lets you scoop up the ball without ever touching it.
It's a great solution to appease your dog's endless level of energy without tiring yourself or ending up with arm pain.
Chuckit! Sport Launcher Dog Ball Thrower, $12.99, available at Amazon.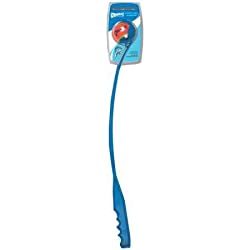 #8 – A Dog Mattress As Comfy As Yours
A dog bed that could rival a human's mattress is Casper's memory foam bed.
Casper keeps its shape, and has supportive foam bolsters. 
It comes in 3 sizes: small (for dogs up to 30 lbs), medium (for dogs up to 60 lbs) and large (for dogs up to 90 lbs).
Plus, this bed is easy to clean! It has a removable and machine washable cover that's impenetrable to fur (& slobber-resistant).
Casper Dog Bed, from $125, available at Amazon.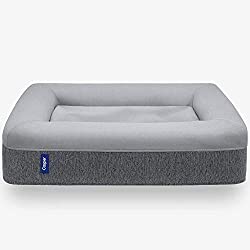 #9 – A Classic Treat Dispensing Toy
Dispenser toys like Kong are a classic option.
It comes in different sizes (small, medium, large, x-large, xx-large). Kong also has different rubber strengths (depending on age and chewing strength):
Puppies – pink or blue rubber.
Average chewers – red rubber.
Senior dogs – purple rubber.
Power chewers – black rubber.
This toy provides great mental stimulation and it's an efficient way to feed your dogs meals, making them work for their food! – which is a good thing. 🙂
You can fill it with a wide range of food, including kibble and treats. Also, you can freeze it for an extra challenge.
Kong Classic Dog Toy, from $12.99, available at Amazon.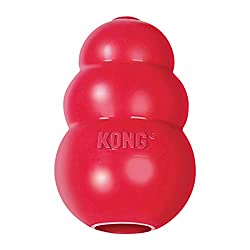 #10 – A Snuffle Mat for Nosework
Dogs love to use their noses and sniffing for hidden treats tires them out if you don't have time for a long walk. It's a great scent game!
A seek-a-treat puzzle such as a snuffle mat challenges your dog to use their nose and paws to find the treats.
Bonus: It's washable and portable.
Awoof Snuffle Mat, $17.79, available at Amazon.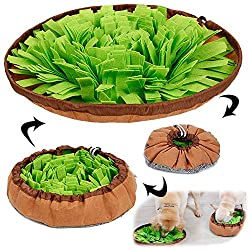 Awoof Snuffle Mat (large), $37.99, available at Amazon.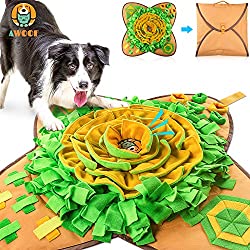 #11 – A Christmas Stocking
Every dog deserves a stocking hung by the fireplace, right?
AerWo Dog Christmas Stocking, $8.99, available at Amazon.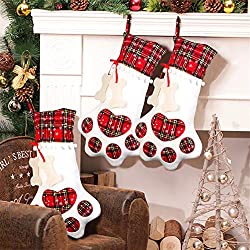 #12 – Flavored and Durable Chew Toy
Chew toys are essential for dogs. And probably a toy you should replace from time to time.
Chewing keeps your dogs' jaws strong and their teeth clean of tartar build-up. Plus, it also combats boredom and can relieve mild anxiety or frustration.
Nylabone chew toys are made with tough but safe rubber that will keep your dog away from chewing anything else!
They cater to teething puppies, moderate chewers and strong chewers too. Also, they come in different flavours like:
Chicken.
Beef.
Bacon (pictured).
Peanut.
Nylabone Flavored Durable Dog Chew Toy, from $6.22, available at Amazon.
#13 – A Donut Cuddler Bed
I love this bed where dogs can cuddle, snuggle and burrow.
With ultra-soft and cushioned walls all the way around, your dog is sure to feel loved and comforted while napping in this donut bed.
The interior and exterior of this bed are made of faux fur that is unbelievably soft to the touch. The bottom is made with tough nylon fabric that resists both dirt and water.
You will appreciate that it's safe to machine wash (gentle cycle) and tumble dry (very low heat). 🙂
It comes in 4 sizes (small, medium, large and extra large). Plus, there's a matching Shag Throw Blanket!
Best Friends by Sheri Calming Shag Vegan Fur Donut Cuddler, from $34.95, available at Amazon.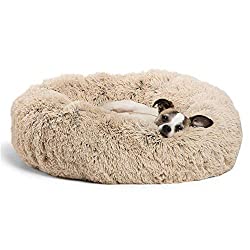 #14 – Dog Wellies
For dogs that will tolerate footwear…
These are Wagwear's spin on the classic Wellington boots.
They are 100% rubber. The open-vented slits make them a breeze to slide on, while also creating a secure fit that will stay put even while on the run.
These boots come in five colours (pictured below), and the price includes four boots for your four-legged friend.
Size guide:
XXS for paws up to 1.5″ long  (approx. 5-15 lbs).
XS for paws up to 2″ long (approx. 15-25 lbs).
S for paws up to 2.25″ long (approx. 25-35 lbs).
M for paws up to 2.5″ long  (approx. 35-45 lbs).
L for paws up to 3.25″ long (approx. 45-60 lbs).
XL for paws up to 3.50″ long (approx. 60-90 lbs).
XXL for paws up to 3.75″ long (approx. 80 + lbs).
Dog Booties help:
Protect against burrs and thistles when hiking.
Protect from salt, antifreeze, and ice for city dogs.
WagWellies™ by wagwear, $49, available at Amazon.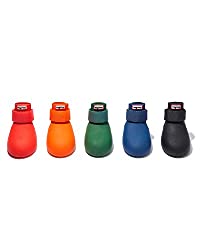 #15 – A Bandana, Bow Tie Collar and Leash Matching Set
Do you have a special occasion coming up?
Matching dog wear is great for wedding, parties, family picnics and other occasions like Christmas!
This stylish matching set of bandana, bow tie collar and leash comes in different colours and patterns.
It's made in the US and the textile is 100% cotton.
Unique Style Paws Dog Bandanas, $8.99, available at Amazon.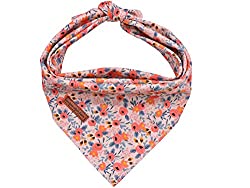 Unique Style Paws Dog Collar Bow Tie, $15.99, available at Amazon.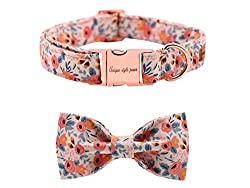 Unique Style Paws Dog Leash, $14.99, available at Amazon.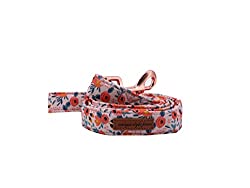 #16 – A Lickimat Slow Feeder
Slow feeders like Lickimat are great solutions for:
Dogs who swallow their food without chewing it properly. This causes stomach issues. Lickimat slows the feeding dramatically and prolongs enjoyment.
Giving supplements or medications to your fido, which is usually a challenge.
Entertaining your dog whilst grooming; for instance, nail clipping.
Ultimately, calming your pooch since licking helps release endorphins.
Lickimat comes in 3 surface patterns:
LickiMat Playdate (Squares): For small kibble, raw meat or fish (pictured).
LickiMat Soother (Dots): For runny foods.
LickiMat Buddy (Crosses): For chunky spreadable treats.
Bonus: It's made of food-grade rubber (no BPA, PVC or Phthalates) and it's 100% dishwasher safe.
Lickimat Classic Dog Slow Feeders, $7.99, available at Amazon.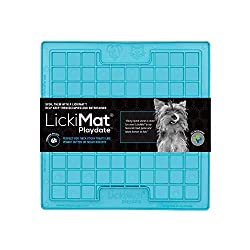 #17 – A Christmas Jumper
What about a dog holiday sweater?
You don't need to go crazy choosing one, just look at this cute sweater in classic Penguin pattern with turtleneck design. 🙂
Christmas Dog Jumper, $12.99, available at Amazon.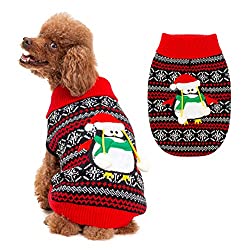 #18 – A Dog DNA Test
Curious about your dog's origins?
DNA analysis unlocks a brand new world of DNA-based insights that may help you understand your dog's unique appearance, behaviours, potential health risks, and wellness needs.
Plus, work with your veterinarian to use your results and develop training, nutrition and long-term healthcare plans. 🙂
Wisdom Panel is a Dog DNA Test Kit for the breed and ancestry information!
It's very easy to use:
Collect your dog's DNA with a cheek swab.
Activate your kit online
Send your kit to the lab with pre-paid shipping.
You will receive the genetic analysis of your dog's ancestry and breed identification in as little as 2 weeks.
Wisdom Panel 3.0 Canine DNA Test, $79.99, available at Amazon.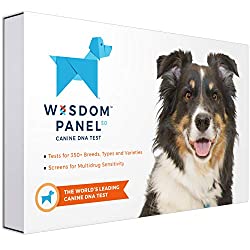 #19 – Pet Bed, Pet Carrier, and Pet Carseat – All In One 
Visiting family or friends?
No problem. Sleepypod is three products in one: it's an everyday pet bed, a stylish carrier, and a safe car seat!
Many cats and dogs associate travel with negative experiences such as a trip to the vet or kennel.
The Sleepypod mobile pet bed allows a pet to travel safely in the comfort of their own bed. This reduces the travel-related stress because the Sleepypod is already a trusted part of your dog's everyday life. Just zip on the lid and you're both ready to travel. 😉
Bonus: The small Sleepypod fits under the airplane seat!
Sleepypod Mobile Pet Bed and Carrier, $199.99, available at Amazon.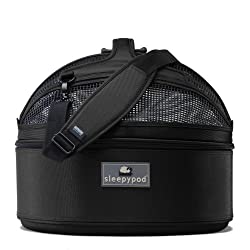 #20 – Hide and Seek Puzzle Toy
Looking to challenge your dog?
See if they can find all of the squeaky squirrels hibernating in the plush tree log. It definitely is fun to watch!
Outward Hound Hide-A-Squirrel Squeaky Puzzle is an interactive game that keeps dogs mentally stimulated and entertained for a while (which prevents boredom and destructive behaviours).
This plush puzzle comes with 3 squeaky squirrels and a log. Just hide the squirrels in the log and let your dog figure out how to get them out. 😉
It comes in 4 sizes (small, medium – pictured, large and extra-large), so it's suitable for all dog breeds.
Outward Hound Hide-A-Squirrel Squeaky Puzzle Plush Dog Toy, from $8.08, available at Amazon.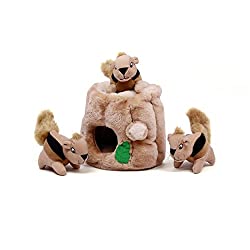 #21 – A Fleece Blanket
Dogs love to curl up with a comfy blanket.
So, when it comes to Christmas gifts for dogs, this just might be at the top of their list – if dogs could actually make a Christmas list, that is. 🙂 
Designed specifically for doggies, this fluffy fleece blanket is extra soft and comfy. And it's machine washable!
This blanket is made of fleece fabric. It's available in 4 sizes (small, medium – pictured, large and extra-large) and 4 colours (blue, dark grey, grey – pictured, and pink).
PAWZ Fleece Blanket, from $7.99, available at Amazon.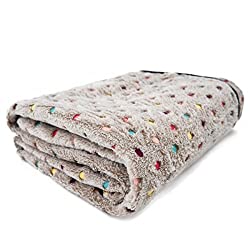 #22 – Some Coal
Place this humorous toy in your dog's stocking for guaranteed laughs on Christmas morning. 
This bouncy and buoyant lump of coal is non-toxic, BPA and phthalate free.
Orbee-Tuff Lump Of Coal for Dogs, $11.99.